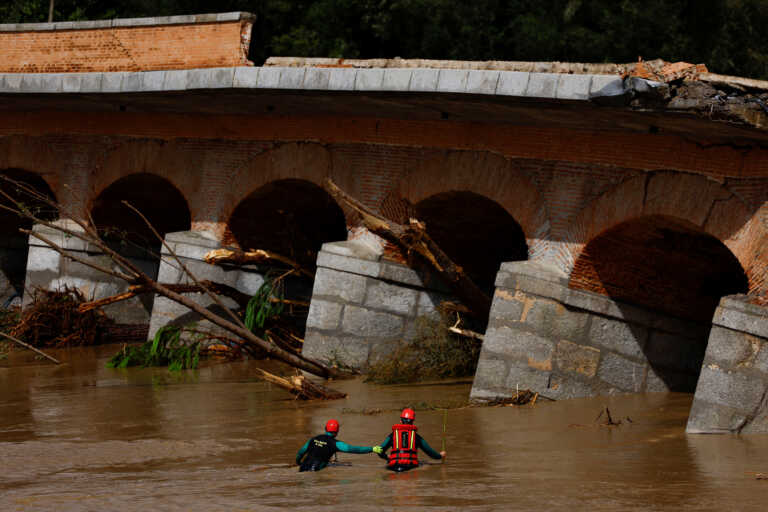 At the mercy of bad weather is Spain where three people have lost their lives and as many are missing from the floods.
Torrential rains flooded roads, subways and railways in Spain, while a 10-year-old boy survived by climbing a tree.
Helicopters were sent to rescue people who had taken refuge on the roofs of their homes in Toledo, about 50 kilometers southwest of Madrid.
The rain, which began to fall on Sunday, turned roads into rivers of mud and washed away cars and rubbish bins in Madrid, Castile-La Mancha, Catalonia and Valencia. Hail fell in many areas.
Three people were killed on the outskirts of Toledo, where the weather service AEMET recorded a record rainfall of 90 liters per square meter on Sunday. One of the victims was a young man who was trapped in an elevator which filled with water.
Another was inside his car that was swept away by the rushing waters. The third is a 50-year-old man, who was earlier reported missing. He was found dead this afternoon, in a river near the town where he lived, Camarena.
Heavy rains cause flooding in the Madrid Metro in Spain.#rainstorm #spain #madrid #europe #rainfall #metro #subway #rain #storm #toronto360 #toronto360tv pic.twitter.com/E2YZSHqoVj

— Toronto 360 TV (@Toronto360TV) September 4, 2023
"It was raining all the time and we were scared, but we stayed inside and we're safe," said Isabella Stewart, an American missionary living in Toledo. Another resident of the town, Ruben Gondaleth, said everything was flooded and "it's going crazy".
Parts of Spain were hit by torrential rain and flooding over the weekend. At least two people were reported to have died from the rain and flooding. This video shows flooding in Toledo City.

Credit: Daniel Torres via Storyful pic.twitter.com/0blmBCYELa

— WeatherBug (@WeatherBug) September 4, 2023
In the Madrid region emergency services were called to 1,200 cases overnight. Police and firefighters are searching for a man in rural Aldea del Fresno, southwest of the capital. This man was with his son in their car that was swept into the Alberce river. The 10-year-old child was saved after he managed to climb a tree.
Serious flooding in Toledo, Spain. pic.twitter.com/Ef2kOB54v6

— moonbitly (@moonbitly) September 4, 2023
Rescuers are also searching for a woman who disappeared under similar circumstances in Toledo and an 84-year-old man who was swept away by a mudslide in Villamanada, west of Madrid.
#BREAKING Storm triggers major flash floods in Tarragona #Spain #ClimateEmergency#ClimateCrisis #Floods #Storm #Tarragona #Catalonia #Tarraco #Climate #CampingAlfacs #Tormenta #Viral #Flooding #FlashFloods #BreakingNews pic.twitter.com/t8dwXXTZLd

— JUST IN | World (@justinbroadcast) September 4, 2023
Many roads in the Madrid region have been closed as at least six bridges have been brought down by overflowing river waters.
Spain: Álamo in State of Emergency

Shocking video footage shows the devastation in Álamo, Spain, this morning. The region is in a state of emergency due to flooding, and the images capture the magnitude of the destruction.
**#Floods #Emergency #Spain** pic.twitter.com/8OwdoTGzie

— ChroniBuzz (@liv59224) September 4, 2023
The Department of Defense announced that it has sent Army engineers to build a portable bridge in Aldea del Fresno after the existing bridge was washed away.
Flooding in Spain continues. This is #Belmonte this afternoon#ClimateActionNow #DANApic.twitter.com/dM1ztiC0eH

— Volcaholic (@volcaholic1) September 4, 2023
Most metro lines, which were closed early in the morning in Madrid, are now operating normally. There are also some train routes from Madrid to Andalucía, but the trains run at much lower speeds for safety reasons.
The article Three dead and as many missing from bad weather in Spain – Floods and rivers of mud was published on NewsIT .