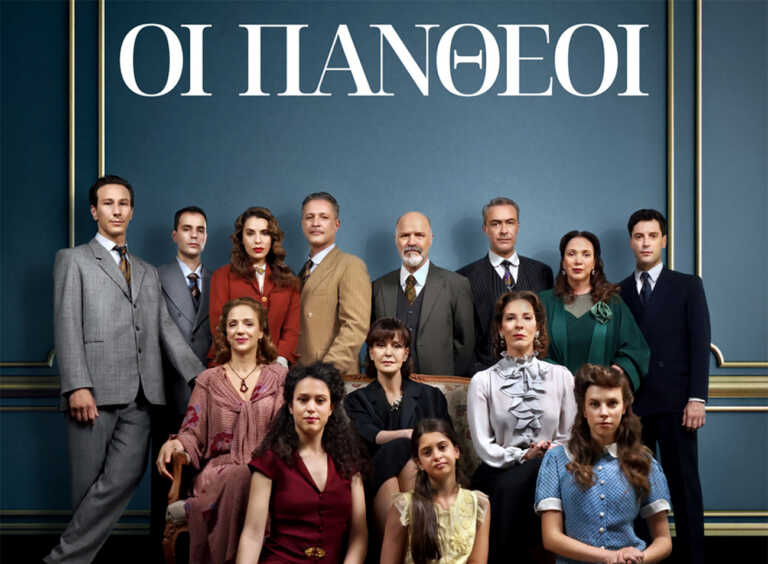 The SKAI series, inspired by the award-winning book of the same name by Tassos Athanasiadis "The Pantheons", under the modern directorial approach of Spyros Michalopoulos, and comes to captivate from the first episodes. What will we see in the episode of Tuesday, September 19, 2023.
The Pantheons – Episode 2 (19/09 at 21.00)
Isidoros (N. Hatzopoulos) tries to recover from the shock of discovering that there is an illegitimate child in the Pantheon family. Andreas (A. Chilakis) will make efforts to bridge the gap between his wife, Marmos (M. Krailing), and the rest of the family. Thus, he will ask Kitsos (M. Sarantis) to be the first bridge between the Pantheons and his wife.
The funeral of General Vlasis (G. Konstantinou) is held with the honors he deserves. All Grammar is present but among the world there is a man whom no one knows.
Pella (I. Baltsavias) will leave Kitsos and ask for the help of Telis (K. Gavalas). He will try to find fake passports for her to flee Greece.
After Pella tells him what happened in Thessaloniki and why they are chasing her, she will go where Telis sends her to get her papers. But, she cannot calculate what awaits her, in that infamous area where she will find herself alone…
They star: Katia Dandoulaki (Chrysostomi Pantheos), Emilios Chilakis (Andreas Pantheos), Melia Krailing (Marmo Pantheos), Michalis Sarantis (Kitsos Galatis), Nikos Hatzopoulos (Isidoros Pantheos), Thanasis Kourlampas (Fanis Pantheos), Maria Kallimani (Despina Galatis), Penelope Pitsouli (Ilaria), Cora Karvouni (Nina Augustakis), Spyros Stamoulis (Stathis Monogios), Michalis Syriopoulos (Yiannis Marmaris), Elena Topalidou (Teacher), Athena Maximou (Meropi Monogiou), Costas Fillipoglou (Iordanis Vallidis), Pantelis Dentakis ( Loukas Augustakis), Smaragda Adamopoulou (Matoula Gana), Christina Alexanian (Veta Pantheou), Eleni Karakasis (Sevasti), Alexandros Moukanos (Chrysinas), Isabella Baltsavia (Pella Gana), Vicky Diamantopoulou (Thaleia Monogiou), Konstantinos Gavalas (Telis Valerios) , Kostas Kontaratos (Panagis), Eva Simatou (Sofia Stratigou), Areti Tili (Aleka Vallidis), Ifigenia Karamitrou (Liana Pantheou), Giannis Katsimihas (Thomas Pantheos), Thanasis Isidorou (Stefanos Chrysinas), Konstantinos Elmazioglou (Ilias Gazis), Giannis Itsios (Dimitris), Vallia Papadakis (Urania).
In the role of Vlasis Pantheos, Giorgos Konstantinou
Scenario: Gianna Kanellopoulou
Scenario: Angelos Hassapoglou
Script Consultant: Spiliopoulos H.V.
Direction: Spyros Michalopoulos
Photography Department: Dionysis Lampiris
Photography Department: Antonis Kounelas
Costume designer: Konstantinos Zamanis
Scene designer: Antonis Chalkias
Production Organization: Thodoris Kontos
Production Execution: JK PRODUCTIONS – KARAGIANNIS.
The article The Pantheons: Pella cannot know what awaits her, in the infamous area where she will find herself alone was published on NewsIT .