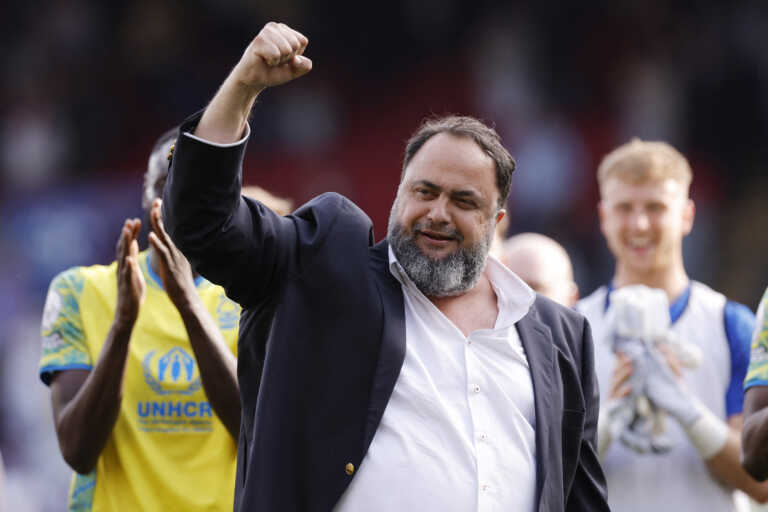 "You are the heartbeat of this club and your dedication and love is the driving force behind our ambitions for great things" states among others the Vangelis Marinakis in his message to her friends Nottingham Forestwhile defining the team's goals.
Two 24 hours after the great victory of Nottingham Forest over Chelsea at "Stamford Bridge" with 1-0, the owner of the "reds" Vangelis Marinakis with his written statement, in the form of an open letter to the world of the English team, wanted to define the lofty goals of the following day.
Mr. Marinakis analyzed his plan and plans for even greater investment in Nottingham Forest and made a rallying call.
What Vangelis Marinakis states in his written statement:
"Our dear sports fans,
I hope this message finds you well and in good spirits after the transfer window is over and we won at Stamford Bridge.
As we begin a new season, I wanted to take a moment to reflect on our journey so far and share with you the incredible strides we have made as a club over the off season and summer period.
First and foremost, I want to express our deep gratitude for your unwavering faith and passionate support. You are the heartbeat of this club and your dedication and love for Forest is the driving force behind our aspirations for great things.
For those of you who were lucky enough to be with us at Stamford Bridge on Saturday, I hope that, like us, you sensed something special that continues to develop within our club.
Our win wasn't just an away win against one of the established Premier League sides. As our players and coaching staff went all the way and we celebrated in the stands, it felt like we were more than just a football team. I felt like we were family.
When we talk about family, it means more than a group of people who support the same group. A family fights for each other, supports each other and loves each other.
A family sticks together when mistakes are made, hurts together when one of us grieves, and celebrates together when we succeed. The family has a soul and a collective heartbeat. Family makes us stronger together than the sum of our parts.
From the players on the pitch to the staff behind the scenes, from the fans in the stands to the communities we serve, we all share one common bond – the love of Nottingham Forest.
Together, we share successes and failures, triumphs and setbacks, and stand as one in our pursuit of success.
This summer, we set out on a mission to strengthen this family, and I'm glad we accomplished that.
The breathtaking excitement of transfer deadline day saw Nottingham Forest dominate sports coverage. The plan was very clear and well calculated.
It was the culmination of months of analysis and research, collaborative meetings with our staff and a relentless search for some of the best talent in world football.
We have taken great care to seek out and acquire players who are not only extremely talented, but possess the qualities that define Nottingham Forest:
grit, determination, team spirit and passionate commitment to help us realize our shared ambitions. These new players are not just here to wear our shirt, they are here to embrace our values, uphold our heritage, take us to the next level and make every Forest supporter proud.
The players we have brought in are fighters and winners who understand and believe in our vision for the future of this great club. When several of the talented players we brought in this summer choose Nottingham Forest over the other dominant European clubs chasing their signatures, you should know that they choose us because we have shared our vision with them and they are fully invested in it. We want to succeed.
Please join us in welcoming all our new signings to the club. From the moment they first walk into the City Ground on a match day, I know they will feel the collective love and ambition we share and be inspired and encouraged by their decision to join Forest.
They need your full support. For those who have never played in the Premier League before, it also takes time and patience to adapt.
Of course, as new players join our family, others move on. We wish them well in their future careers away from Nottingham, but none more so than Brennan Johnson.
Brennan epitomizes everything that is great about football. A young boy who plays for his local team, fulfills his dreams and grows not only as a footballer, but as a person.
He is the ultimate role model of a young professional and his contribution to the club he loves has been huge – he helped us get back into the Premier League and helped us stay in it in the last home game of last season.
His move to Tottenham also gave the embattled club the financial means to reinvest and continue to grow.
We thank him for being part of our family and for giving us so much of himself. Be well, Brennan, be strong and healthy and we wish you every success.
Our vision for the club is clear and unwavering: we are on a path to repositioning Nottingham Forest as a dominant force in English football.
This journey is not just about the short term, it is about building a sustainable future. We are investing in youth development, nurturing young talent and building a team that can compete at the highest level for years to come.
We are also investing in the Forest women's team, fully integrating them into the club so they can benefit from improved facilities and support and benefit from our high performance culture.
We are as proud of their achievements last season as we are of the men's team. Again, this is what it means to be family.
Off the pitch, we have worked hard to take the club forward. We invested in new pitches, rebuilt the changing rooms at The City Ground and the training ground and improved our strength, conditioning and physiotherapy facilities.
A new restaurant and lounge is being built for our players to enhance their experience with us.
We have also refreshed our corporate hospitality areas and executive suites, redesigned our meeting room and created an impressive new media suite to cater for the growing number of journalists covering Nottingham Forest.
Our store at The City Ground has undergone a complete refurbishment and redesign and we have opened a new store in the heart of the city to bring Nottingham Forest to the heart of our community. All of this represents a huge investment in upgrading our facilities across all our venues.
As the world famous City Ground celebrates its 125th anniversary this week, know that we also have great plans for the future of our historic home on the banks of the Trent.
Welcoming Tom Cartledge as our new Chairman, we now have a lifelong Forest fan at the helm, who will strengthen the connection between the club and the fans.
His arrival will also reignite plans to redevelop our famous home. We are committed to preserving the soul of the stadium and its place in our history, while expanding it to create a modern venue commensurate with our bold ambitions.
First and foremost, this means that one can accommodate a larger number of supporters, so that more fans can watch our games and the next generation of Forest fans can really feel part of the future we are creating here.
I would like to express our thanks to Nicholas Randall for his service as Chairman prior to Tom's arrival. Nick remains with us on the Board and will continue to support the Group in a different but valuable role.
I urge you to embrace the family spirit we are developing as we begin a new season. Let's rally behind our players, continue to create an atmosphere at The City Ground that scares our opponents and be the driving force that propels Nottingham Forest to new heights.
I want to assure you that our commitment to this club is unwavering. We will continue to invest, support and lead with a clear vision for the future of Nottingham Forest.
Not just a football club, it is for the city and community of Nottinghamshire. Together we can achieve greatness.
Evangelos Marinakis".
The article The message of Vangelis Marinakis to the people of Nottingham Forest was published on NewsIT .