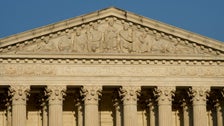 WASHINGTON (AP) — The justices are taking the bench at the Supreme Court for the first time since late June. Their new term begins Monday with ethics concerns swirling around the court.
The only case being argued Monday concerns the meaning of the word "and" in a federal law dealing with prison terms for low-level drug dealers. The length of thousands of sentences a year is at stake.
The court also is expected to get rid of hundreds of appeals that accumulated over the summer.
The term is shaping up as an important one for social media as the court continues to grapple with applying older laws and rulings to the digital age.
The court also is dealing with the fallout from major rulings a year ago that overturned Roe v. Wade and expanded gun rights. A gun case will be argued in November. Limits on mifepristone, a drug used in the most common method of abortion, could be before the court by spring.
Apart from cases, the justices are discussing a first-ever code of conduct, though disagreements remain, Justice Elena Kagan said recently.
Life at the court has more or less returned to its pre-COVID-19 normal over the past two years, though arguments last much longer than they used to. One other change that resulted from the coronavirus pandemic remains: The court is livestreaming audio of all its arguments. Cameras remain forbidden.