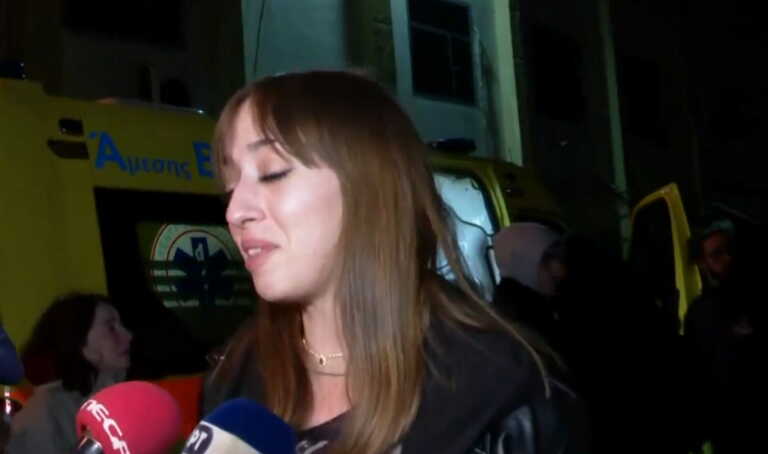 Those who managed to get out of the fatal train at Tempe. "When I felt fire and in the wagon I say we're going to explode in here," describes a young student on MEGA and the Live News show with Nikos Evaggelatos.
It is all that he experienced and remembers from the horrific night of the conflict in Tempe. The young student, Agni Titeli, was going to book a ticket in the second carriage but it was her friend who persuaded her to go in the last one.
"He has more vacancies," he will tell her. A seemingly meaningless conversation that was to become decisive for her survival.
"My boyfriend intervened and tells me "the back seats are empty. Sit back." No, they are more comfortable. So I ended up sitting in the 7th carriage. Fortunately. How could I have known that it's my luck," he tells Live News and adds:
"Thank God I was in the last carriage. I can't say anything else. I haven't seen anything. I know it's just that two trains collided."
Shocked, she still hasn't realized what has happened. He knew that there had been a conflict, that he had seen fire, but he had not realized that the voices and screams he heard were people burning. He left with five other passengers through a tunnel and then total darkness.
"There was smoke. I left through a tunnel to come out on a road. We climbed on rocks."
Today, one week later, she speaks to Live News and describes everything she experienced on the night that changed her life forever.
"It was a strong jolt. Things fell. People fell. I was going back and forth. There were cries. Voices. I was crying too. I felt the wagon fall."
She kept her mobile phone as a talisman. With this she succeeded and notified her father that their train was engulfed in flames and she was running for safety:
"I had my cell phone in my arms. If anything happens, call me. I took dad and told him the train has derailed. It's on fire. I don't know where I am. At first I shut him down. I heard voices of people in pain. They shouted "I'm on fire"!
He hears these heartbreaking voices every night. She now sleeps in her mother's arms and cannot stay alone for a minute.
"Everyone during the day is human with me and now at night mommy sleeps with me."
Tempi: "I saw my death"
In an instant, everything was gone. Third carriage, seat 41. There sat Thodoris Katsioulis, another Hellenic Train passenger. Today he tells Live News that he saw death pass before his eyes!
"I turned to get the mobile phone and found myself facing two chairs. I lost consciousness, fell down. I looked and saw a blackness, smoke everywhere. Two girls passed over me to get out."
In total darkness and thick smoke, Theodoris had to get up and fight for his life, with the world around him screaming for help.
"Fire – fire we were trapped. Fire. So as I was down I said I'm going to die. How do I get out of there? I started to say my prayer and I saw a young man. He broke the glass and didn't leave, he turned back."
And this young student began to release people. To save lives. One by one the passengers were starting to jump from the burning train through the broken glass. Mr. Thodoris will leave his turn for a mother who had her minor children in her arms.
"The little girl came out and jumped and then I left too. The mother jumped and so did the others."
His wagon was standing empty. Such was the hell behind them with the fiery blaze threatening them, that there was no room for them to think about the height.
"It was cut like that and it was high. And I say sit down and get ironed. And he stepped on iron. And in the end it was the engine of the other, the commercial one."
"My daughter has a hole in her lung"
It is 19-year-old Vasiliki Economaki from the hospital where she is being treated. She has fractures and burns but the most serious is, as her father says, the lung injury.
"He has some fractures, they will fix them later. The most was that he had a hole in his lung."
He lives by a miracle. She lives because her wagon split in half and she found a hole to hide in when everything around her collapsed.
"He found a hole underneath. He had opened the train from below and they got out. They were sitting at the bar. With the bang that happened, the girl's sides came on top of him. She makes a shout like this: Stelio, Stelio a child who was with him, he was next to him and says here we are and he had opened the ground. Now from the wheel next door, from the toilets? I don't know, it was opened and they left from below, they crawled and left, they didn't jump from the windows."
This father a few minutes later will receive a call on his cell phone hearing only two words, "Dad we're on fire."
Watch the Live News report with Nikos Evangeliatos:
The article Tempi: "I saw my death", "luckily I moved to the 7th carriage" – New shocking testimonies was published on NewsIT .