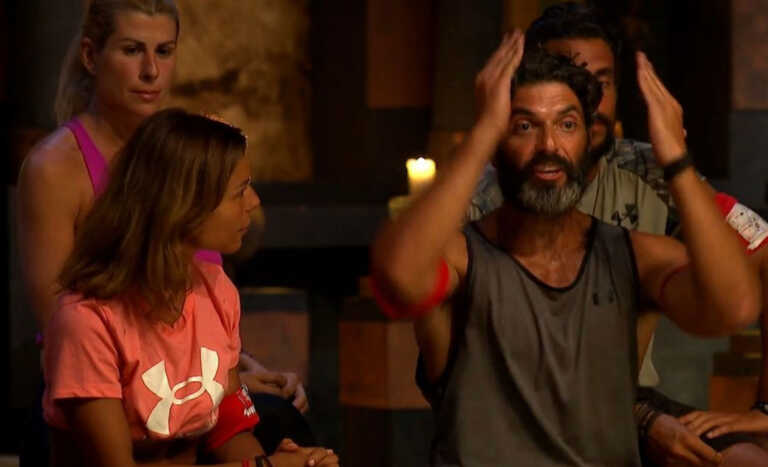 The expression "the tension "hit" red" has started to lose its… meaning when talking about the relationships of the players of the Red team in Survivor All Star!
The Celebrities were the ones who lost the second immunity match as well and were forced to vote out two other players as candidates to leave Survivor All Star. The issue is what happened before they voted!
Nikos Bartzis quarreled again with Eurydiki Papadopoulou, Spyros Martikas with Eleftheria Eleftheriou and also with the usually quiet Sakis Katsoulis, who lost his temper!
Everything happened in the shadow of the departure of Stathis Schiza.
Spyros Martikas accused Eleftheria Eleftheriou of acting with a plan in the case of Stathis Schiza and this resulted in the dissolution of their group.
In fact, he said that she cheated him to vote for Eleni Haberi, which, he noted, he has regretted.
For her part, Eleftheria Eleftheriou tried but failed to defend herself, but Spyros Martikas did not give a chestnut despite the arrows he collected from his teammates.
"Within a day I am attacked by Spyros and his personality changes. To show Stathis who his friend is.
For Stathis and Spyros, we are strangers," said Eleftheria and triggered Spyros' reaction: "But you don't stop lying. I can't let you. Don't you get it? In your Survivor you were a thief and here you are a liar. You are the most unreliable. A favorite player left because of you."
"Come on guys, I can't play this game. Get him out of here, the man is not well. It's loco. I want to go out. I am beside myself with this man," said Eleftheria with tears in her eyes.
The psychology of the Reds was also seen in the immunity match, where they were easily defeated 10-4 and therefore they should have two candidates. The first one was known from the start: Eurydiki Papadopoulou, whom everyone voted for with competitive criteria.
In the voting, Eurydiki Papadopoulou voted for Nikos Bartzis but two votes (one of Eleftheria Eleftheriou) went to Spyros Martikas, who will be the third candidate.
Both players, when asked by Giorgos Lianos, claimed that they were not surprised and that they want the people to vote for them to leave…
Nikos Barzis was also waiting to vote, who made a typical move towards the Blue team when Giorgos Lianos was reading the names from the ballot box.
The third immunity match will decide if all the Survivor All Star exit candidates will be from the Red team or will… "break" with a Blue as well.
Survivor All Star: Sunday to Thursday at 21:00 on SKAI.
The article Survivor All Star – Martikas to Eleftheriou: "In yours a thief, here a liar" – The candidates for departure was published on NewsIT .