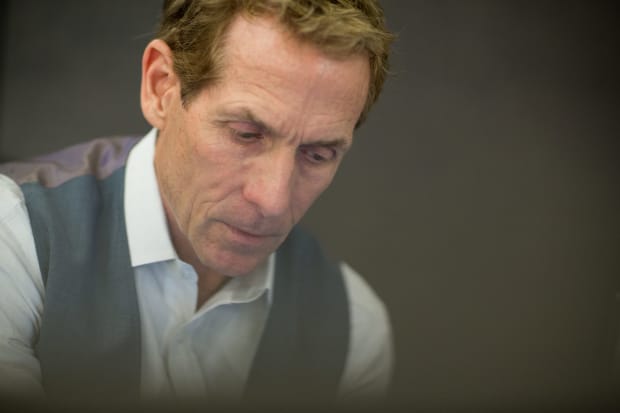 Skip Bayless is known to make headlines for outlandish things he says on television.
On FS1 Monday, Bayless openly wondered if Memphis Grizzlies star Ja Morant is a member of the Crips street gang. Morant is in hot water after being on Instagram Live with a gun in the nightclub over the weekend, the latest controversial issue for the 2019 No. 2 overall pick.
"And remember, he's thrown up the Crips sign, I've seen him throw it up two or three times, I've probably missed some other times," Bayless continued. "What does that mean? Does that mean he wants to associate with the Crips? Or he got initiated by the Crips? Or he has a dream of being a Crip? I don't know. I'm just throwing this out – that, are we missing the boat here that that's just who he's been from the start and we keep saying, 'No, you're just associated with the wrong people,' when he's actually part of the wrong people."
Bayless' flaming hot take has been discussed frequently on social media, which we suppose is what he was hoping for all along.
"Ja Morant you are never forgiven I just had to watch a video of Skip Bayless talking about crips. I rebuke you," said basketball coach Jason Maples on Twitter.
"Ric Bucher says Kevin Durant should get married. Stephen A. Smith says Durant should kill himself, hypothetically speaking of course. Skip Bayless wonders if Ja Morant is a Crip. What the f–k is American sports media on lately?" wondered podcaster Chris Walder.
"Skip Bayless sayin Ja Morant is a Crip on national tv is kinda crazy lol," one fan added.
"Every day that goes by where no one beats Skip Bayless' ass on live television is a day in which we've failed as a society," added James Queally of the Los Angeles Times.
"Stop Asking Skip , Shannon, and Stephen A everything challenge," another commenter chimed in.
Morant is currently serving a two-game suspension for his IG Live gun escapade, which is also reportedly being investigated by police.