Hail is one of the most difficult weather phenomena to predict. Problem, it can cause a lot of damage to crops, roofs and vegetation. To reduce the risks, the municipality of Saint-Julien-de-Peyrolas, on the borders of Gard and Ardèche, has decided to finance the installation of a terrestrial vortex generator.
On March 23, a strange device should be installed at the Domaine Le Chapelier, in Saint-Julien-de-Peyrolas. This is a terrestrial vortex generator. When triggered, it is capable of sending up to 200 billion silver iodide particles per second into a cloud.
The particles will become artificial ice cores. The number of hailstones that will fall to the ground will therefore increase, but at the same time their size will also be reduced and the damage caused will be less significant. "Instead of having tennis balls, we're going to have grains of rice. Hopefully it'll even happen to the molten ground", image Sandra Scavennec, coordinator of the Prévi-hail network.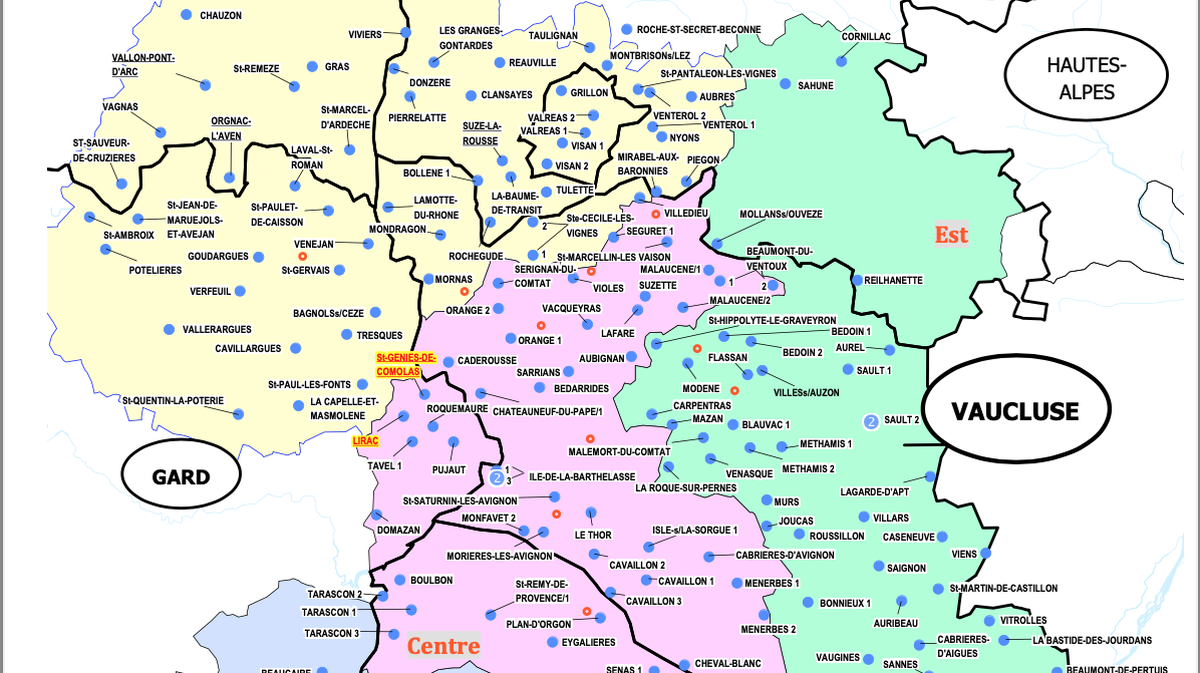 Prévi-grêle is an association that was founded in Cavaillon in 1997. Since then, it has installed 172 terrestrial vortex generators in five departments (Vaucluse, Bouches-du-Rhône, Ardèche, Drôme and Gard). In the Gard, most of the generators are installed on the territory of the Gard Rhône Agglomeration and in the surrounding area.
Since 2014, this intercommunality, where viticulture is very present, has established a partnership with Prévi-grêle. Each year, a subsidy is paid (approximately €25,000 for 2023, editor's note) to finance the supply of silver iodide and the operation of eleven generators .In 2020, a major episode of hail had also hit the Lirac/Tavel sector, causing significant damage. . Both municipalities have been equipped withthree additional generators since
.Despite the increase in the number of generators, the network remains insufficient in the Gard to ensure optimum efficiency: "Above all, it lacks an expansion on the Cévennes side to offset the risk incurred during hyperactive Cévennes storms.
", argues Sandra Scavannec. In places where there are enough generators, the efficiency rate against hail is estimated at 60%. To get closer to this percentage and better protect the municipality, the municipality of Saint-Julien-de – Peyrolas has decided to finance a lump sum of €1,807 to install an additional generator to the contract already signed with the Agglomeration of Gard Rhodanien.
On July 20, 2014, hail had caused damage in the villageThe mayor, Claude Salau contextualizes: "We think of crops, of private goods. Maybe for years it will not hail, but once is enough. Roofs are increasingly equipped with photovoltaic panels. Insurance does not always reimburse everything and to obtain the classification in natural disaster, it is more and more complicated
."The whole village of Saint-Julien-de-Peyrolas still has in mind July 20, 2014 when the hail had done significant damage: "I lost everything that day. We couldn't predict anything. There were losses worth €50,000 in 10 seconds. I was young, dynamic, I got up, but if we can have an efficient tool, that would be good
", testifies Maximin Jullien.
In the room, the farmers and residents present are all of his opinion. He and two other people volunteered to become operators. That is to say, it will be one of them who will start the generator and turn it off before and after each hail alert. There are 20 per year on average. They can last 8h to 24h.Prévi-grêle relies on data from Keraunos, the French observatory for tornadoes and violent storms, to issue its alerts. Some farmers still wonder what environmental impact the device and the solution projected into the clouds will have. The Prévi-hail coordinator wants to be reassuring: "Silver iodide is already found everywhere in our environment. The latest studies show that there is no difference in soil before and after use. The use of generators does not generate any smell, nor does it make noise, unlike ultrasonic guns.
"
* The land-based vortex generators, funded under the agreement with the Gard Rhodanian Agglomeration, are installed in Bagnols-sur-Cèze, Cavillargues, Goudargues, Laval-Saint-Roman, Saint-Gervais, Saint-Paul-les -Fonts, Saint-Paulet-de-Caisson, Tavel, Tresques, Vénéjan and Verfeuil. Other generators are also located in Beaucaire, Domazan, La-Capelle-et-Masmolène, Lirac, Potelières, Pujaut, Roquemaure, Saint-Ambroix, Saint-Géniès-de-Comolas, Saint-Gilles, Saint-Jean-de- Maruéjols, Saint-Quentin-la-Poterie and Vallérargues. Their funding is provided for some by the municipalities and for others by professional agricultural groups: cellar, ASA, CUMA.
Mary Meunier

Source link