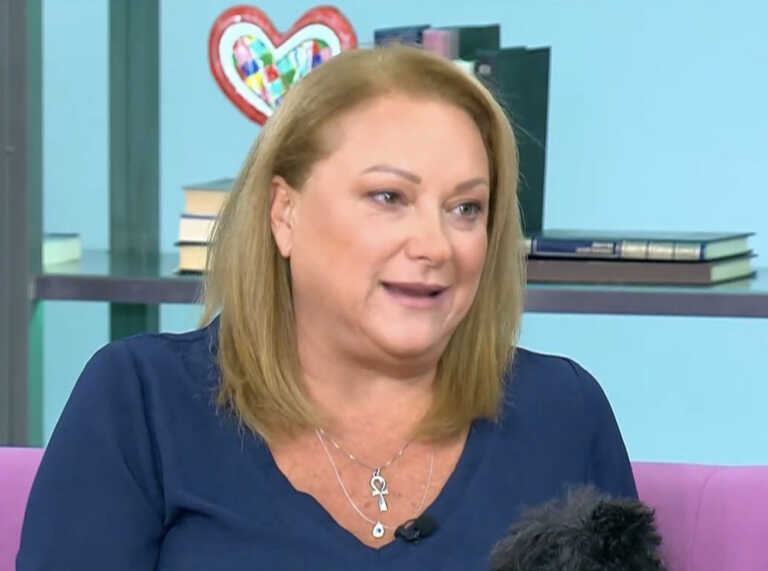 H Renia Louizidou on the show "Happy Day" and Stamatina Tsimtsili revealed everything you want to know about Alpha's new comedy series "Murders in the Belfry".
The beloved actress, who will play sister Arsinoe in Murder in the Belfry, opened up about the highly-anticipated surreal comedy and revealed exclusive details about the show's plot:
"It is a police comedy, 12 episodes because it has a mystery which is gradually solved. Most of it takes place in a convent with 5 nuns and inside the convent there is a murder of a young man. This is very bad for the reputation of the monastery, it upsets the nuns and the police take it upon themselves to solve it.
It is a duet of disaster policemen who fall into a "wall" and fail to climb it, so the nuns, in their attempt to save the honor of the monastery, take action and become detectives.
They get involved in a series of adventures, trying to solve the crime, adventures in which you never expect to see nuns getting involved" and declared that it is the first time he is working with Elisabeth Konstantinidou: "Elisabet and I have never played together before, we had only met in one guest and I think we're going to be a funny duo, judging by what's going on on set."
Regarding the course of the series, she confessed: "I am very optimistic, a very careful work is being done, with a very high importance on detail. The script is very funny as well as the plot, I'm very optimistic that it will be a very good job."
Afterwards, Renia Louizidou also spoke about the absence of comedy series on television: "It is difficult to do comedy anymore because the series have taken a line of daily viewing and comedy is not done on a daily basis, it is very difficult in terms of scripts so it does not find much space comedy on television"
"@context":"http://schema.org","@type":"VideoObject","name":"R. Louizidou: "I turn a channel when I see myself, I can't get used to my image »","description":"The beloved actress, Renia Louizidou, sat on the sofa of "Happy Day" and revealed the difficulties she still faces in getting used to herself on television. ","thumbnailUrl":"https://i2thumbs .glomex.com/dC1jOWJwdjB6M210Z3gvMjAyMy8xMC8wMi8wNi80Nl80OV82NTFhNjc1OTQ0ZjcyLmpwZw==/profile:player-960×540″,"duration":"PT1M13S","uploadDate":"2023-10-02T06:47:48.000″,"Url":"https://embed. player.glomex.com/integration/1/iframe-player.html?integrationId=eexbs14jwkobpkx&playlistId=v-cvxqum7yh315″,"provider":"@type":"Organization","name":"glomex GmbH","logo ":"@type":"ImageObject","url":"https://player.glomex.com/logo_[email protected]","width":136,"height":146
She also talked about her family, her son and her husband as well as the theater show "Sexy Laundry", in which she stars for the second year in a row.
"Murders In The Belfry" is Alpha's new whodunnit crime comedy, directed by Antonis Angelopoulos, director of "Sto Para 5", "You Are My Match" and "Crimes".
The script of the series is written by Nikos Tsiamis, Nikos Mitsas and Panagiotis Christopoulos and the production is undertaken by Filmiki.
The article Renia Louizidou: I turn the channel when I see myself, I can't get used to my image" was published on NewsIT .