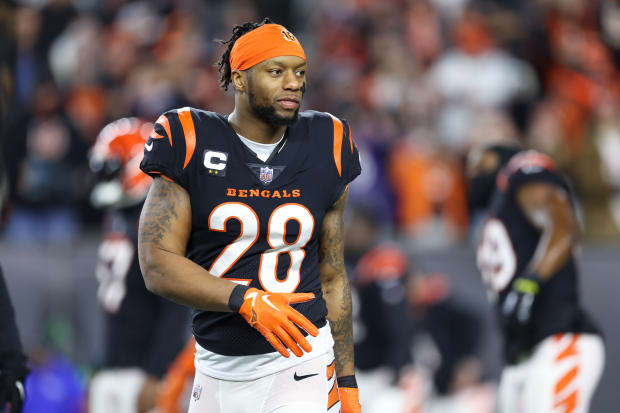 A child was reportedly shot in the neighborhood outside Joe Mixon's home Monday night.
Per WLWT, the shooting took place around 8:30 p.m. in Cincinnati's Anderson Township. The juvenile, whose age wasn't disclosed, was taken to the hospital with non-life-threatening injuries.
Hamilton County Sheriff's Office released a statement confirming Mixon's house is "part of the crime scene."
Police haven't said if the Cincinnati Bengals running back is connected to the investigation. Mixon's sister, Shalonda, told WLWT he wasn't involved in the incident.
FOX19 reporter Chancelor Winn shared video of a police presence outside his home.
Per FOX, police knocked on Mixon's door, asking for anyone inside to come out. Officers entered the home around 1:30 a.m. and removed crime tape after 3 a.m.
No arrests have been made amid an ongoing investigation.
It's unclear if Mixon was home at the time, but it's the same address listed for an arrest warrant on charges dropped last month.