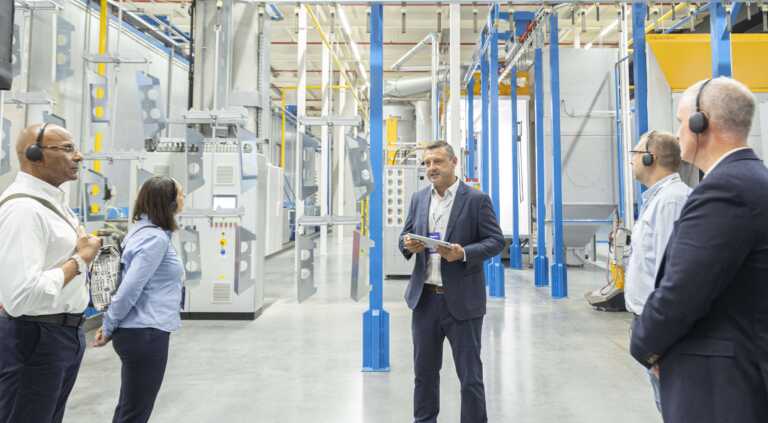 A new state-of-the-art factory in Timisoara, Romania opened on September 14, the group Frigoglass, simultaneously presenting the new logo and the new complete corporate identity.
As announced at a special event, the new factory is a cornerstone for serving the future strategy of the Frigoglass group and for the production of a wide range of innovative and energy-efficient products, which will contribute to the achievement of the demanding goals of sustainable development.
In international markets
The aim, for the group, is to take the lead in meeting demand in Western and Central Europe and together with the rest of its production facilities, which span 3 continents (Europe, Asia, Africa), to continue to effectively serve the drinks and soft drinks industry as strategic global supplier.
The new investment
The new state-of-the-art factory was commissioned earlier this year. It covers an area of ​​approximately 17,500 sq.m. in a total area of ​​44,000 sq.m., while also hosting offices, warehouses and other ancillary buildings
The president of the Frigoglass group, Mr. Gagik Apkarian, founder and managing director of Tetrad Capital Partners, said among other things: "The construction of this ultra-modern factory in record time is the result of a lot of hard work. Today, the Frigoglass group is in a better financial and operational position, with a product range better than ever. This new beginning is also signaled by our refreshed logo and new comprehensive corporate identity that is contemporary, empowering, and takes into account the company's rich heritage of innovation and customer-centricity."
The ceremony was celebrated by 400 distinguished guests and employees of the group, where they were greeted by the Deputy Governor of Timis County, Mr. Sorin Gabriel Ionescu, and the Mayor of Parta, Mr. Daniel Dragan.
The article New Frigoglass factory in Romania – The investment "unlocks" new markets was published on NewsIT .