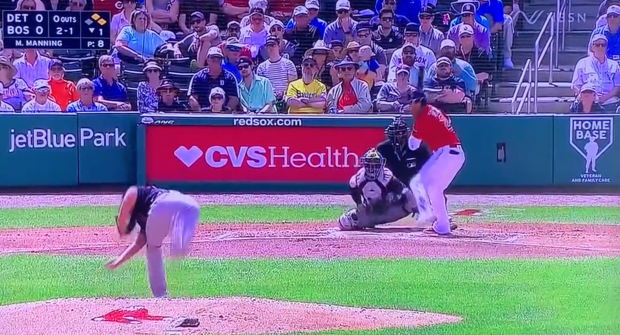 A terrifying injury sustained during an MLB game today resulted in a batter being taken by ambulance to a nearby hospital.
During today's game between the Boston Red Sox and the Detroit Tigers, Red Sox third baseman Justin Turner was hit squarely in the face by an errant pitch and knocked to the ground. He had to be transported to the hospital with his injuries.
In a statement shared by the team, the Red Sox announced that Turner is being treated for "soft issue injuries" and being monitored for a concussion. Further tests are ongoing.
"Justin Turner was taken to a local hospital after being hit in the face by a pitch. He is receiving treatment for soft tissue injuries, and is being monitored for concussion. He will undergo further testing, and we'll update as we have more information," the team said, via Pete Abraham.
In a follow-up tweet, the team confirmed that Turner is "stable, alert, and in good spirits."
Justin Turner is a 14-year veteran and a two-time All-Star from his nine-year run with the Los Angeles Dodgers. Turner won a World Series title in 2020 and won the NLCS MVP award in 2017.
He signed with the Red Sox in the offseason on a one-year deal with a player option for 2024.
We wish Turner a full recovery from this terrible injury.