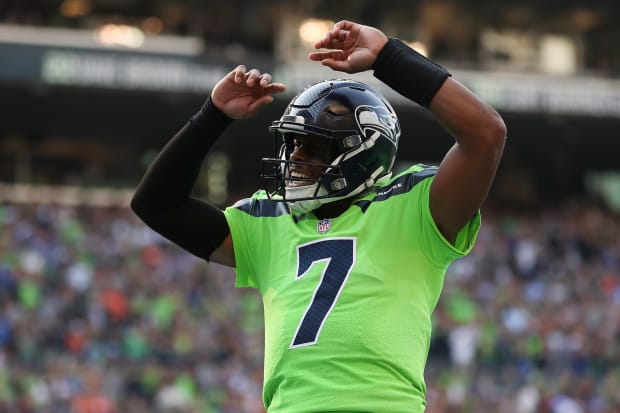 For the better part of five years quarterback Geno Smith was battling tooth and nail just to stay in the NFL. But today, he's getting rewarded in a huge way for what he did for the Seattle Seahawks in 2022.
According to NFL insiders Tom Pelissero and Ian Rapoport, the Seahawks are finalizing terms on a multi-year contract extension with Smith. The deal comes one week before Smith was slated to hit free agency.
Smith set numerous records for the Seahawks in 2022, leading them to the playoffs as a 9-8 wildcard team while completing a league-leading 69.8-percent of his passes. He finished the year with 4,282 passing yards and 30 touchdowns – both career highs – and earned Pro Bowl and Comeback Player of the Year honors for his efforts.
Now he's set to be the Seahawks' franchise quarterback into his mid-30s and potentially beyond.
Geno Smith was a second-round pick by the New York Jets in 2013 NFL Draft. Despite showing some flashes as a rookie, he struggled mightily in 2014 and was limited to just three games by injuries between 2015 and 2016.
Between 2017 and 2020 he appeared in just 12 games, mostly as a backup.
When the Seahawks traded Russell Wilson before the 2022 season, Smith beat Drew Lock for the starting job and proceeded to have the best season of his entire career.
We'll find out what the numbers are soon, but whatever he's making, it's well-deserved.
UPDATE: Jordan Schultz reported that it's a three-year deal worth $105 million with $52 million in the first year.