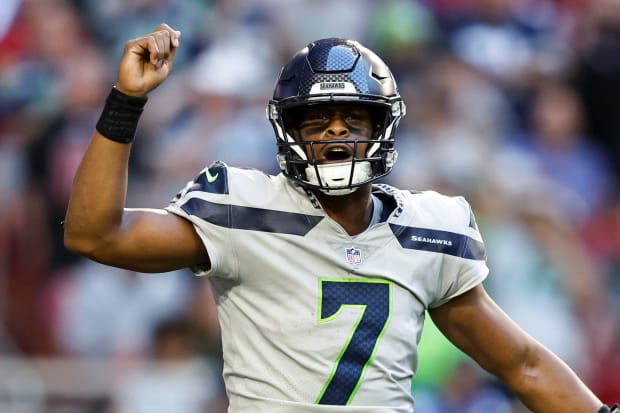 Geno Smith will look to continue his career renaissance with the Seattle Seahawks.
According to NFL Network's Tom Pelissero and Ian Rapoport, the Seahawks are completing a deal to retain the 32-year-old quarterback. Rapoport said a three-year, $105 million contract is "done and agreed."
The NFL world is thrilled for Smith, who spent most of the previous six years as a reserve before breaking out for the Seahawks in 2022.
"Yessir!!!!" Seahawks wide receiver Tyler Lockett wrote on Twitter.
"Exciting stuff for the Seahawks and Geno Smith," Henry McKenna of FOX Sports said. "What a great story it has been to see him make a comeback. Such a cool resurgence for a dude that was nearly flushed out of the league."
"He didn't write back," PNW Showdown's Mikaela Mattes wrote, "but he is coming back!"
"Good for Geno," WGR 550's Nate Geary said.
Smith appeared to be going down the path of a journeyman backup after faltering to start his career with the New York Jets. However, another starting opportunity surfaced when Seattle traded Russell Wilson.
In his ninth NFL season, Smith broke Wilson's single-season franchise record with 4,282 passing yards. The Comeback Player of the Year led Seattle to the playoffs with 30 passing touchdowns and an NFL-leading 69.8 percent completion rate.
Seattle is investing a considerable amount in Smith replicating what was easily the best season of his career. A feel-good story last season, Smith is now a franchise quarterback expected to sustain his newfound success.