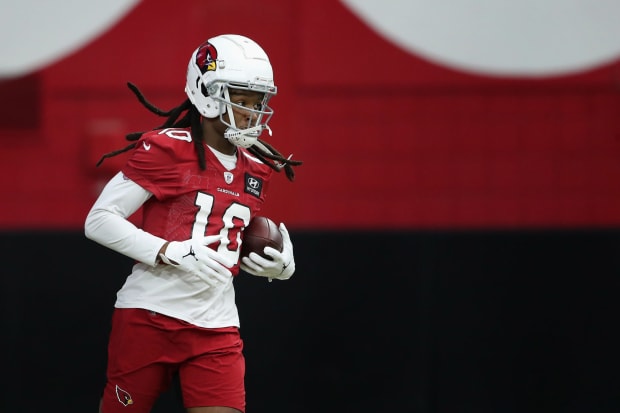 The Arizona Cardinals have been open about potentially trading DeAndre Hopkins.
Teams interested in adding a wide receiver have been keeping an eye on the veteran pass catcher. We don't know for sure if the Dallas Cowboys are one of those teams, but rumors have linked America's Team to Hopkins.
On Monday, Hopkins was hanging out with former Cowboys wideout Dez Bryant, and while appearing on Bryant's Instagram Live, the five-time Pro Bowler had a message for Dallas fans.
"I keep hearing y'all say my name around here. What's up? Talk to me," Hopkins said.
Hopkins, who turns 31 in June, is under contract for two more seasons. He is due more than $19 million in salary for 2023 and currently would count more than $30 million against the salary cap.
After serving a six-game PED suspension to start the 2022 season, he posted 64 receptions for 717 yards and three touchdowns in nine games.