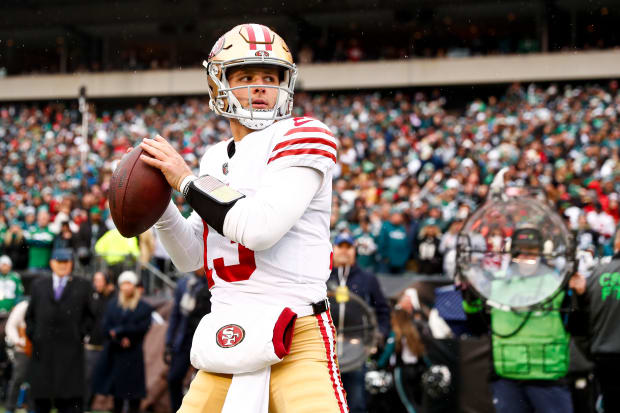 San Francisco 49ers quarterback Brock Purdy was supposed to have surgery to repair his injured elbow on February 22.
However, after swelling and inflammation was found in the area of the injury on an MRI, the procedure was postponed. Now, it looks like the surprising former seventh-round pick is finally set to go under the knife.
Purdy will have surgery to repair the ulnar collateral ligament (UCL) in his right arm on Friday, according to a report from Jennifer Lee Chan of NBC Sports Bay Area.
"Purdy met with [orthopedic surgeon Dr. Keith] Meister last week for a checkup and now has been approved to undergo the procedure at the end of the week in the Dallas area," Chan wrote.
The 49ers are hoping that Purdy will only need a six-month rehab period following surgery, but won't know for sure until the operation is performed.
If the procedure goes as planned, and an internal brace is used to stabilize the UCL, Purdy is looking at being able to resume throwing in three months. He'd then have a three-month buildup period before returning.
However, if the surgery is more complicated, Purdy could miss a more significant chunk of the 2023 season.