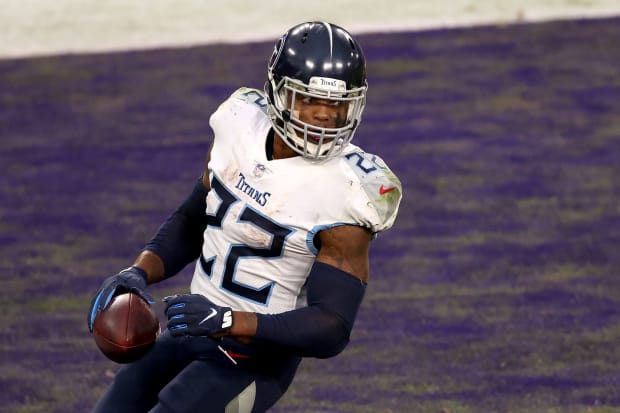 The Tennessee Titans dangled Derrick Henry on the trade market during the NFL Scouting Combine, per Michael Silver of Bally Sports.
Oddsmakers quickly pounced on the rumor by setting lines for the star running back's next destination.
Per PointsBet Sportsbook, the Miami Dolphins and Cincinnati Bengals are favorites to acquire Henry. Each AFC team has +400 odds, which equate to a 20 percent implied probability.
Three championship contenders trail close behind. The Kansas City Chiefs, Philadelphia Eagles, and Buffalo Bills each have +500 odds.
After playing just eight games in 2021, Henry returned to compile 1,538 rushing yards on 349 carries last season. The two-time rushing champion has scored 70 touchdowns over the last five years.
Henry would make any of the aforementioned offenses even more dangerous.
The Dolphins would become nearly unguardable if having to account for Henry in the trenches with Tyreek Hill and Jaylen Waddle looming downfield. The Bengals, who could clear cap space by cutting Joe Mixon, would be beyond loaded if pairing King Henry with Joe Burrow, Ja'Marr Chase, and Tee Higgins.
Yet top teams typically don't pay big money to a running back by design. Those squads may not want to trade capital and pay $10.5 million for a heavily worked rusher who's exceeded 300 handoffs in three of the last four seasons.
Tenneesse exploring Henry's trade value also doesn't mean a deal is definite. However, new general manager Ran Carthon could begin a teardown by trading the 2020 Offensive Player of the Year.