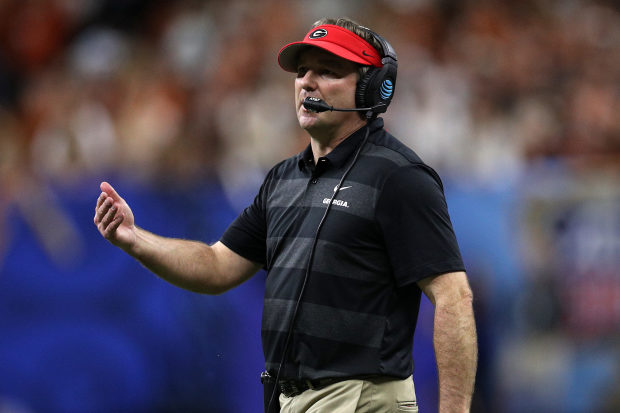 Kirby Smart responded to another driving incident involving his football program.
Jarvis Jones, a staffer and former Bulldogs player, was arrested Friday night for reckless driving and speeding. It's the latest in a troubling trend continuing after a player and team staffer died while racing earlier this year.
Per The Athletic's Seth Emerson, Smart said he'll handle the latest situation in-house.
"There'll be internal discipline," Smart said. "It's a personnel matter, and I can't really comment any more on it."
Georgia staffer (and former All-American player) Jarvis Jones was arrested Friday for excessive speeding. Kirby Smart asked about that Monday: "There'll be internal discipline. It's a personnel matter, and I can't really comment any more on it."

— Seth Emerson (@SethWEmerson) September 4, 2023
ESPN reported in June that Georgia football players were involved in 10 reports of traffic-related violations since a Jan. 15 car crash that killed offensive lineman Devin Willock and staffer Chandler LeCroy. Former Bulldogs star Jalen Carter, since drafted in the first round, was reportedly racing LeCroy when the vehicle traveling over 100 mph veered off the road.
One month later, police were reportedly called about racing on the same road where the fatal crash occurred. One of the cars was registered to Georgia running back Kendall Milton, who ESPN identified as "a repeat traffic offender" based on attained court records.
Despite this endemic, Smart insisted last month that he's "never felt better" about the program's culture. He also addressed the speeding incidents during SEC Media Days in July.
"I'm disappointed anytime we have traffic incidents," Smart said. "You know, it's very evident. When you look at it, we've had traffic citations and incidents throughout the history of being at the University of Georgia. And we actually don't have more now than we've had in the past. So what concerns me most is the safety of our players."
Jones was a linebacker at Georgia in 2011 and 2012. He returned to his alma mater after four seasons with the Pittsburgh Steelers.