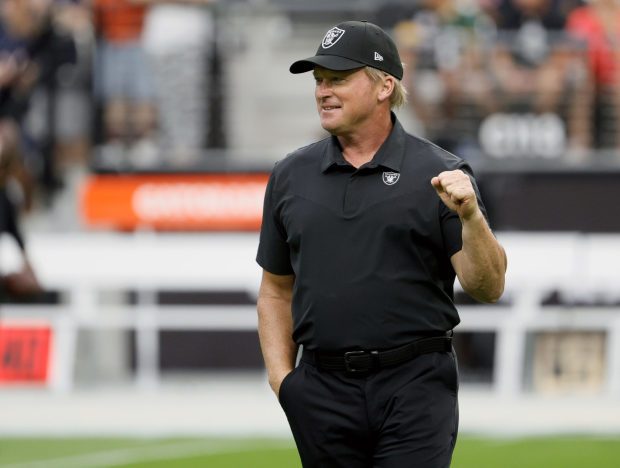 Former Raiders head coach Jon Gruden has returned to the sidelines. Well, sort of.
According to Jeff Duncan of NOLA.com, the Saints brought Gruden to town this week to pick his brain. They also brought him in so he can work with his former quarterback, Derek Carr.
Gruden coached Carr from 2018-2021. He was fired by the Raiders after it was revealed that he used racist, homophobic and sexist language in past emails.
Here's what Duncan had to say about Gruden's appearance in New Orleans:
To facilitate the transition, the Saints signed two of Carr's old Raiders targets in free agency: wide receiver Bryan Edwards and tight end Foster Moreau. The club also brought in Gruden this week to pick his brain about the offensive transition. The longtime head coach spent much of his time at the Saints facility with Carr and the offensive coaching staff as they orchestrated the early stages of the offensive installation.
Gruden has a unique familiarity with Carr and the Saints' offensive scheme so the move to bring him to campus makes sense. Statistically, Carr enjoyed the best years of his career in his three-plus seasons under Gruden from 2018 to 2021.
If the Saints end up adding Gruden to their staff, that would certainly be considered a controversial move.
For now though, it sounds like Gruden was just helping the Saints with installing their offense at OTAs.