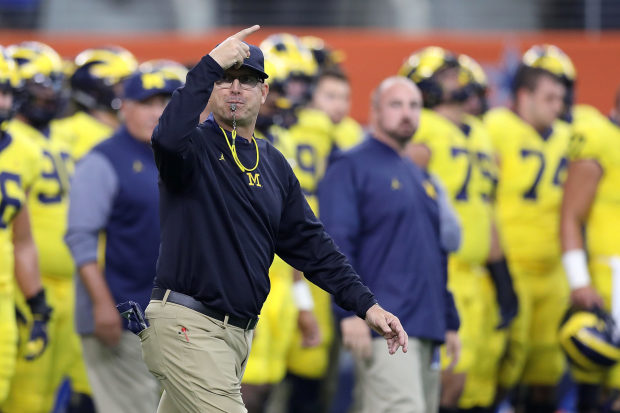 Jim Harbaugh may have too much free time on his hands.
The Michigan head coach served the first of a three-game suspension amid an NCAA investigation for alleged recruiting violations in 2020. Harbaugh was away from the sideline as the Wolverines earned a 30-3 victory over East Carolina on Saturday.
In his time away, the 59-year-old appears to have decided offenses and defenses do not exist. He declared a new moniker combining the separate units after designating the coach's job as the "guardian of victory."
"There's no offense. There's no defense. It's a We-fense," Harbaugh said Monday, per WXYZ Detroit's Brad Galli.
Jim Harbaugh said the job of a head coach on game day is to be the "guardian of victory." Then he added this line:

"There's no offense. There's no defense. There's a We-fense." https://t.co/GNxdU8oSbo

— Brad Galli (@BradGalli) September 4, 2023
Quarterback J.J. McCarthy led Michigan's "we-fense" with 280 passing yards and three touchdowns, completing 26 of 30 passes. Blake Corum compiled 73 yards and a touchdown on just 10 carries.
On the other end of the we-defense, the Wolverines stuffed with Pirates to 235 total yards with an interception.
Harbaugh liked what he saw while watching the game with offensive coordinator Sherrone Moore, who was also suspended. He appreciated the support from players and fans in Ann Arbor.
"It was great watching the team," Harbaugh said. "They played fast, physical, smart, tough. Personally, I felt the love, too."
Harbaugh will sit out Michigan's next two games against UNLV and Bowling Green before returning from the school's Big Ten opener against Rutgers on Sept. 23.