On the sidelines of an exchange relating to the progress of various community projects, Christophe Rivenq, president of Alès Agglomeration and first deputy mayor of Alès, delegate for town planning, answered bluntly a series of questions inviting him to express themselves on the pension reform, the launch of the territorial party "1 + 1 = three", its relationship to the media and communication, while projecting itself on the municipal elections in 2026. Interview.
Objectif Gard: You are a president of Agglo reputed to be optimistic, in particular through the declamation of promising slogans for the territory. However, lately, your speeches are sometimes tinged with concern, especially during the press conference with the Logis Cévenols (reread here). Is the situation really alarming?
Christophe Rivenq: I am worried, realistic, but optimistic. I am worried about the year 2023, but optimistic for the future. Above all, I am more worried about individuals than about the economy. Inflation, the energy crisis, the pension reform: all of this is creating stress. But the covid has led to a form of resilience in companies that are quite reactive. That's rather interesting. I realize in talking with companies and training institutes that young people are more interested in setting up their own business, which is not a joke, rather than being in the situation of having a boss. We are in a shift in our society, with a new way of seeing life. As far as local authorities are concerned, we are subject to such exogenous constraints to raise our budgets that we no longer have the means to manage our resources. For the City and the Agglo, the increase in the cost of energy represents 4 million euros thrown in the trash. For the Logis, the cry of alarm is to ensure that the Government hears what is happening. If we stop housing construction, it will have a negative impact on construction companies. But there is no doubt that inflation will eventually stabilize and the year 2024 should see the noose loosen.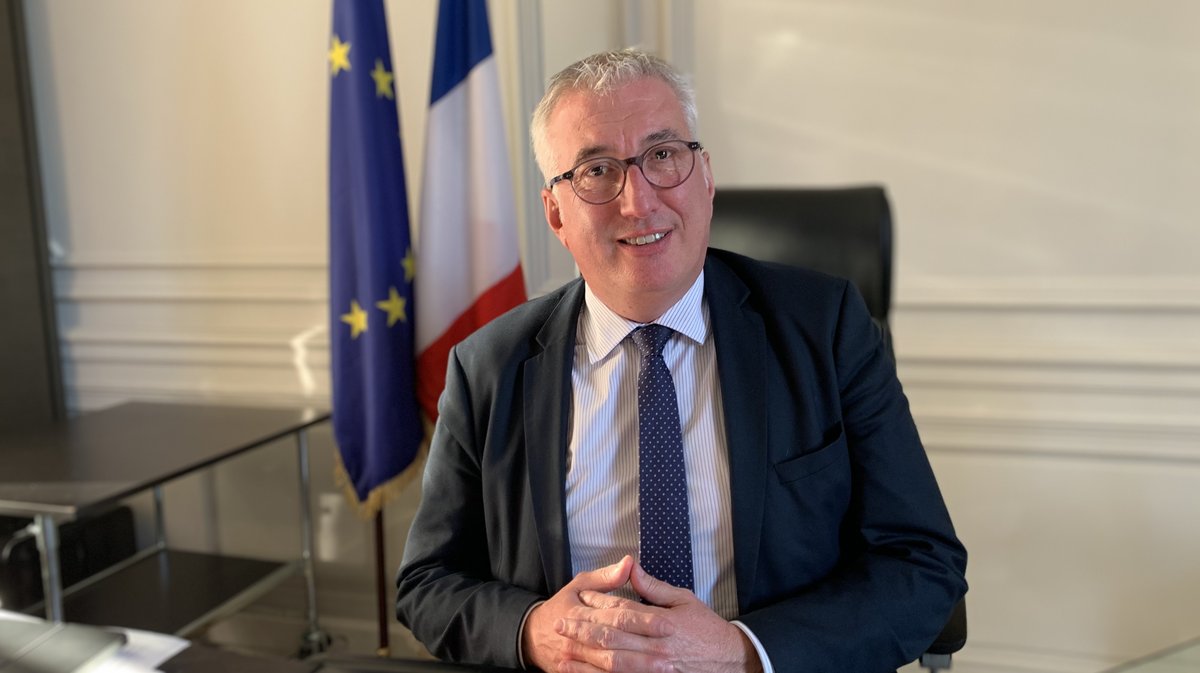 Unemployment is down in this area. Despite everything, the TAF trade show was successful last week with several thousand visitors (reread here). That says a lot about how far we still have to go…
People are delighted with the people there are at the show, I am saddened. On the other hand, it encourages me to think that people want to get out of it. Too often we hear that people let themselves go and take advantage of aid. It is surely true for some, and all too true for that matter, but it is not true for all. What interests me in this show, and this is the reason why the Agglo has joined the Region in the organization, are the training institutes. Because people need to train. We know that, on average, the new generation will practice four to five different jobs during a professional career. For that, training is needed.
The fight against pension reform is in full swing. What is your view of these mobilizations that follow one another and of the project itself?
Without going into the details of the reform, I say to anyone willing to listen that this is absolutely not the right time to pass it. This is a major mistake by the Government at a time when we are emerging from a health crisis, when we are in an energy crisis and an international war. The second thing, the main subject on which we don't want to focus because we don't want to look things in the face, is the problem of the work of seniors. The trade unions, notably the CGT, are as extremist on the one hand as the government is on the other. Having a country where there are as many working people as there are retirees is not sustainable. On the other hand, today, from the age of 55, the number of people who are in a period of non-employment, and who are paid by Pôle Emploi or Health Insurance, is colossal. Especially for those who have worked in difficult jobs. All those years during which they are paid until retirement, it remains public money. It is necessary to quantify what unemployment costs.
"Work, for many French men and women, is emancipatory!"

Christophe Rivenq
What is the first assessment of the launch of the party 1 + 1 = three (reread here)?
Memberships take off. The website is running. Many tell me about it, and from afar! From Nîmes, Montpellier and even Paris! Olivier Véran, whom I met a few weeks ago, had heard of it. Sébastien Martin, president of Intermunicipalities of France, too. Some friends at the regional level want to grab the tool. The MP for Lozère Pierre Morel at the Usher is very interested. The mayor of Castelnau-le-Lez, Frédéric Lafforgue, is a member. Locally, unless I'm told the truth (laughs), I have the feeling that the approach is well received. I get asked a lot of questions because I haven't really developed yet. What is appreciated is this desire to depoliticize the debates. People no longer want to be in boxes. They are no longer right or left. It is the idea of ​​this party which, I remind you, is not intended to make me leave Alès.
You have been developing the political strategy of the town hall of Alès for 30 years. However, some place you in the position of the little youngster who has yet to prove himself. Do you suffer from it?
I am past the age of suffering from anything. But it surprises me. I will be 60 in three years. For 30 years I have been working morning, noon and night for this territory. I designed Max Roustan's campaigns (the mayor of Alès, Editor's note), I set up projects. I sincerely believe that it is rather certain journalists who do not know the history of the territory who have this vision. Maybe it bothers me that things are going so well between Max and me. What we are experiencing with Max is surely unique in France at this level. However, I am not the student waiting to surpass the master. I remind you that if I am first deputy and president of Alès Agglomeration today, it is at the request of Max Roustan. It's his choice! I never had a career plan. Anyway, if all goes as he wishes, it will not be his last municipal mandate. He will accompany me beyond 2026. I think that Max Roustan will need all his life to have a public activity.
"I am in the bistros every morning"

Christophe Rivenq
You are credited with a supposed popularity deficit which is ultimately not measurable until the polls have rendered their verdict. You compensate with an omnipresence in the field, and now with a new monthly meeting live on Facebook every last Tuesday of the month. What is the real will behind this approach?
It is sure that I am less known than Max Roustan. I realize in the street every day that people know me well. On the other hand, and this surprises me a little, apparently I impress certain people who don't dare to approach me too much. People tell me they don't dare bother me. I am in the bars every morning. In town every lunchtime. I don't force myself, I like it! If I'm in town every Saturday morning from 9 a.m. to 1 p.m., it's not to be quiet. It's to meet people, smell the population. One of my prides, I think, is that I carry the image of Alès outside, especially with the communication campaigns in Paris. Things that mean that today we are more than 1,000 inhabitants welcomed each year. For the new meeting on Facebook, it's because I like to be transparent about what we're going to do. It allows me to have direct exchanges that we lost during the covid. I think it's a new way of complementary communication. People come, they watch for three minutes, five minutes, an hour. They do as they want. Public meetings where you come to sit for two hours, people don't want them anymore. Except to come and see a show when it's a tribune like Mélenchon who does a one-man show.
This monthly Facebook live is in addition to massive communication on social networks, as well as in the Alès Agglomeration newspaper. You also dream of having your own TV show. One would almost be tempted to think that you want to get rid of the media. That's the point ?
This is a very good question and should be discussed in a relaxed manner. I think that with the traditional media, we don't have the same objectives. We did a study which shows that the first source of information on the territory is the monthly newspaper of Alès Agglo. The novelty, if we are to believe our polls, is that we have as much credibility as journalists when we announce something. When I read the press, certain things sometimes bother me. We cannot make people believe that things happen spontaneously in this territory. I'm not asking the media to say every morning "it's thanks to Rivenq", but still. So, yes the press is important. Even if it has been lost a little in recent years because of the Internet and the race for information.
"More and more people want me to continue"

Christophe Rivenq
If the municipal elections were held in March 2023, would Christophe Rivenq be elected mayor of Alès?
Wow! I'm not going to answer that. If I say yes, we will say "who does the other think he is?", and if I say no, I give too much importance to other potential candidates (laughs). Deep down inside, I know the answer. An election is the result of what we have produced and what we are proposing. With what I have already given, I am surely the greatest connoisseur of the territory. I am also, in terms of communication, the greatest ambassador of the territory. What I feel is that more and more people want me to continue. I will be 60 years old in 2026. In one mandate, nothing is done. So I have to sign up for at least two terms. Then we'll see!
Do you think the Alesian political landscape will be the same in 2026 as it is today? In other words, should we expect to see new faces emerging?
We hear things buzzing, like what people would like to try this or that, this is the case with each election. But the bullshit needs to stop! Politics is too serious to want to show up just like that against someone. People who have not known what it means to manage a community cannot know what the priestly commitment of a mayor corresponds to. Afterwards, the opponents, I think we already know them. I think you are creating your opposition. When you listen to people, very sincerely, what do you want to oppose today? In 2026, I think there will be fewer and fewer candidates, and therefore fewer and fewer serious candidates. I hear a lot of mayors telling me that they will not continue. As for me, if I am a candidate and I am not elected, it is because such was my destiny.
The report of the second part of this interview devoted to the projects of the city of Alès and the Agglomeration will be read tomorrow, Tuesday, on Objectif Gard.
Interview by Corentin Migoule