This Tuesday, March 7, a day of massive strike is announced to say no to the pension reform project. The main measure of raising the retirement age to 64 is met with much opposition. We decided to take the opposite course by meeting these Gardois who have no desire to stop working, even at 65 years old.
Jocelyne Gayte, crepe maker, in Bagnols-sur-Cèze: "I'm not made to stay at home"
Jocelyne Gayte opened her creperie on February 1, 1980 at 75 rue de la République. With a surface area of ​​13 m², it is the smallest room on this pedestrian axis of Bagnols-sur-Cèze. 43 years later, the shopkeeper still comes to work with a smile and with desire. She will be 67 in October, but thinking about retirement, very little for her: "In 2020, I suffered these 2-3 months of confinement where I could not open my creperie. I understood at that time that I am not made to stay at home. However, I have a beautiful house, a garden, a swimming pool, but I need contact with others too much. To stop working is impossible."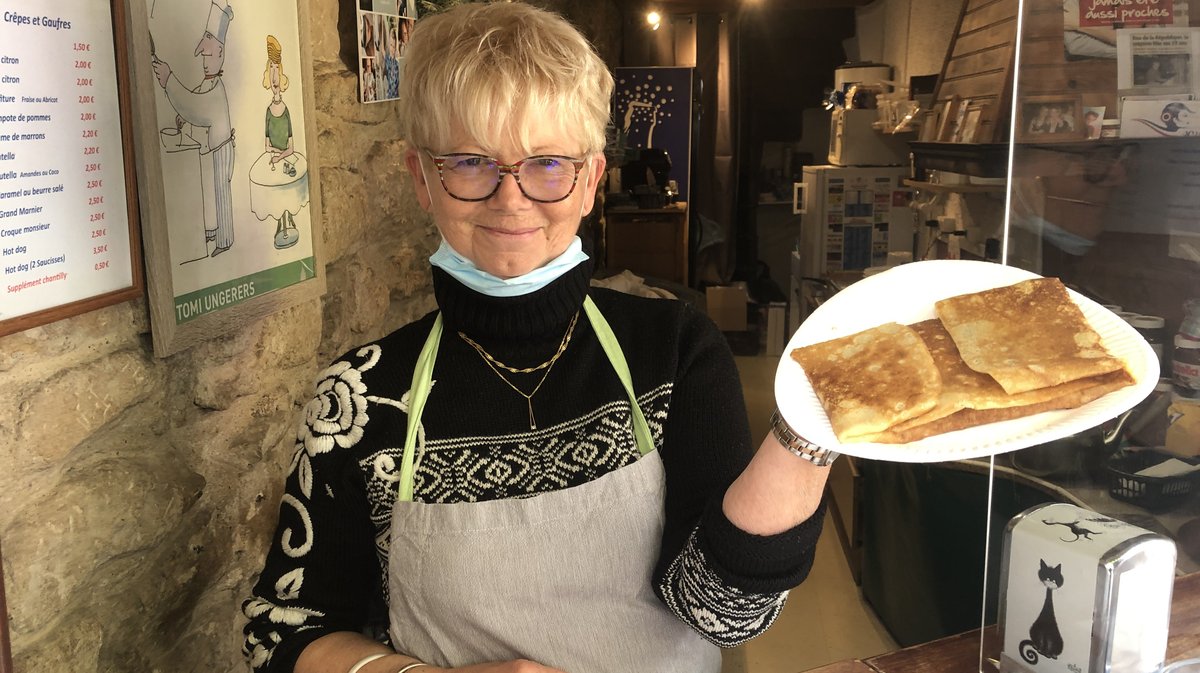 On the one hand, her husband and children often ask her when she is going to retire, but on the other, Joce, as her clients call her, cannot. "I don't want to leave. It's my life, my rhythm. I'm the hyperactive type. When I'm home on Sunday, I do what I have to do, but I can't wait to get back to work on Monday", she assures. Jocelyne Gayte opens 6 days a week, lunch and afternoon. Over the years, she has gathered a loyal clientele for whom she has become much more than the crepe maker: "I do a lot of social, I chat. I have a privileged contact that people no longer find in supermarkets. I think it's the only thing capable of saving downtown commerce.."
"In many countries around us, it's 67 years"
Sometimes, she simply listens to the inhabitants of Bagnole talking about their pain, their children. But some have absolute confidence in him: "Some even bring me their medical analyzes and ask me if I'm fine or not. Others know that I write easily so I write letters to them. I have the impression of being useful, of being useful for something. All the people I can help, I help them"Even among high school students, Joce's sympathy earned him consideration"a bit like their second mom".
Difficult to put an end to all this, so retirement will come one day "but not right now". Jocelyne Gayte hopes to do another two or three years at least: "It's all about health. In winter, it's cold in my room, in summer, it's not far from 50°C. You have to stay up…"She also wants to continue working to always be financially independent and not have to ask her husband for money:"The pension that I will receive is minimal. Even if I sold the creperie, I would take a side job to supplement myself."
Despite the strike, the trader will keep the curtain open on Tuesday. While she regrets that some companies are pushing their seniors out, she is not fundamentally opposed to raising the retirement age to 64: "In many countries around us, it is 67 years. So why not 64 years with us, by making arrangements for women, the difficult jobs of course. People are living longer and longer, it has a cost."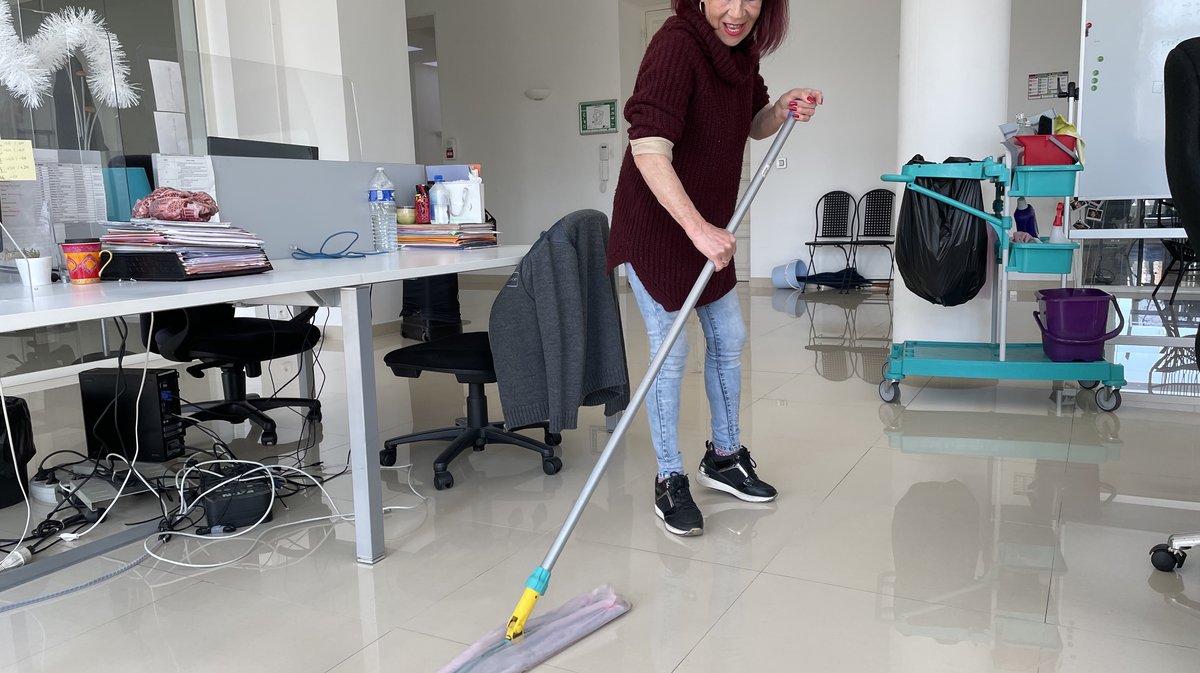 In Nîmes, Katia Leforestier has worked as a housekeeper since she was 16. Now aged 67, she could have benefited from her retirement on January 1, but she chose to continue mopping the floor for 10 hours a week to put butter in the spinach. "I need money! It's not my retirement that allows me to live. Once I've paid for electricity and insurance, I have nothing." The sexagenarian receives around 1,100 euros per month, including 500 euros in survivor's pension from her deceased husband. Thanks to this additional activity, she receives an additional 400 euros: "It saves me money and makes me happy."
"It's hard but I have no choice"
During her career, Katia made the choice to devote herself for ten years to the education of her three children but regrets that this is not taken into account more. Opposed to the extension of the retirement age, especially for the most difficult jobs, she intends to continue her activity. "It's hard, but I have no choice. As long as my body holds out, I will continue", she concludes. For some it's the financial obligation, but for others it's the passion that keeps them going.
This is the case of Jean-Charles Pierret, sports doctor, present every day in his office at 76 years old and who consults late at night. "There is no financial motivation for my case. It is only the passion for my job and health that allows me to continue in my profession"confides the one who has also been the doctor of Nîmes Olympique for 36 seasons.
Marie-Hélène and Geneviève Pichon, "Floricolnem Pichon": "We are for the freedom of work"
They have been established on the Place du Marché since 1962, but started their florist activity in 1945. Marie-Hélène and Geneviève Pichon, 83, work every day, weekends included, and do not count their hours: " It's a passion, we see a lot of people. We saw grandparents being born smiles Geneviève, before continuing: I have worked all my life for a trade. Everyone should be able to stop when they feel like it. Why deprive people of work? she exclaims.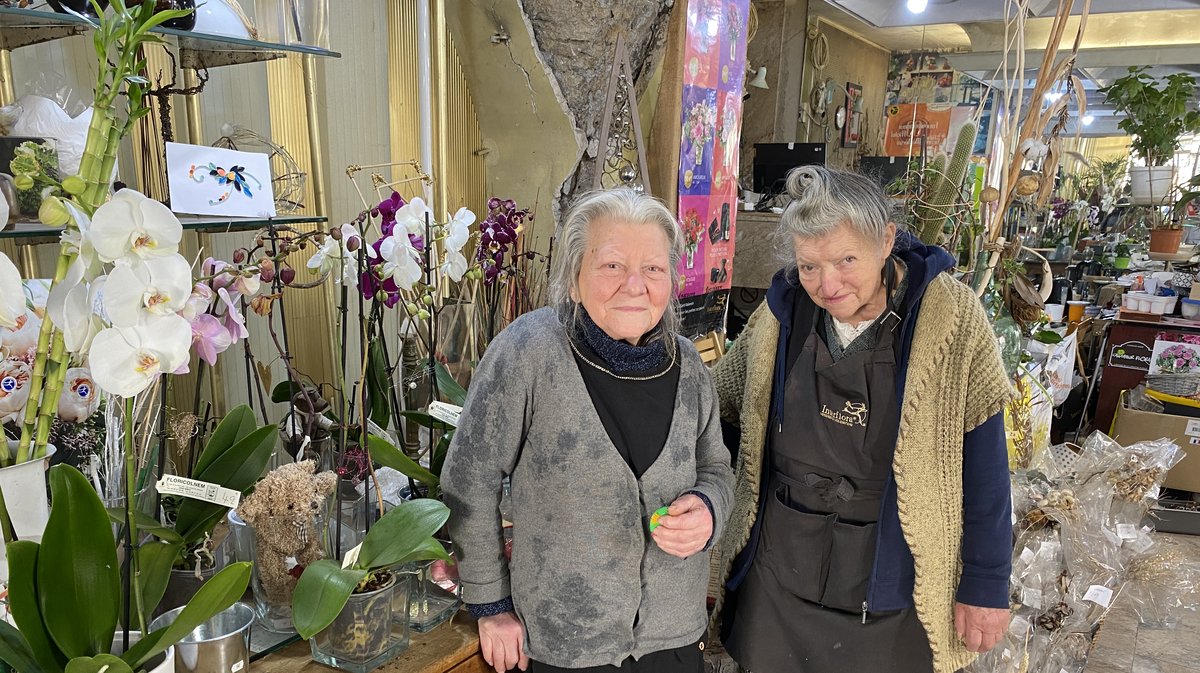 "I don't want to roll my thumbs"
Of a fairly frank temperament, Geneviève has her own opinion on retirement: " I don't want to twiddle my thumbs and wait for my money to drop at the end of the month. "However, she regrets the mandatory closures linked to the confinements, having put a brake on the rate of customers that she was able to have. A few months younger, his sister Marie-Hélène told us a rather crazy anecdote: "During the period of Grandmother's Day, we did not return home for two days. We stayed put. » In addition to being at the store, the two women also organize deliveries.
Marie Meunier, Corentin Corger and Sacha Virga