Three months after closing due to moving, the Secours Catholique solidarity shop reopened its doors at number 22 rue Briçonnet in Nîmes.
Formerly located on Boulevard Natoire, the Secours Catholique solidarity shop moved this summer to number 22 rue Briçonnet, still in the city center of Nîmes. "A move carried out largely by volunteers", specifies Martine Bastide, responsible for team life. In Nîmes, the association has 150, spread across various centers of activity.
The boutique is one of these centers, which, like a game of Tetris, joined the premises on rue Briçonnet after the departure of the Gard delegation which became the owner of a new Nîmes building. "There was already sorting here. Every two weeks, a van had to make at least three trips to supply the store on Boulevard Natoire. So now that the store has joined us, it's easier", explains Baya, volunteer.
Around three tonnes of clothing are processed each year. "We have everything, big brands too, for women, men and children. These are only items in very good condition. As soon as a button or something else is missing, we redirect the articles to the resource center, which represents around a ton", underlines Martine Bastide. But this should soon change, since the team life manager is working on the development of a textile center including the boutique, sorting and sewing. A retoucher has just been recruited to ensure the little patch up but not only that…
Exceptional operation at €1
The Nîmes Secours Catholique team would like to launch into Upside Cleaning, a concept which consists of giving a second life to objects, clothing, etc. "We sometimes receive surprising things, Lacroix silk ties which are difficult to find buyers, but which could be reused in creations", insists Martine. These creations would be sold at the solidarity boutique at reduced prices, very reduced in the same way as the other items presented on hangers, ranging from €0.50 to €8. This Tuesday, September 19, inauguration day, the price displayed – and maintained until Friday September 22 – defied all competition: €1.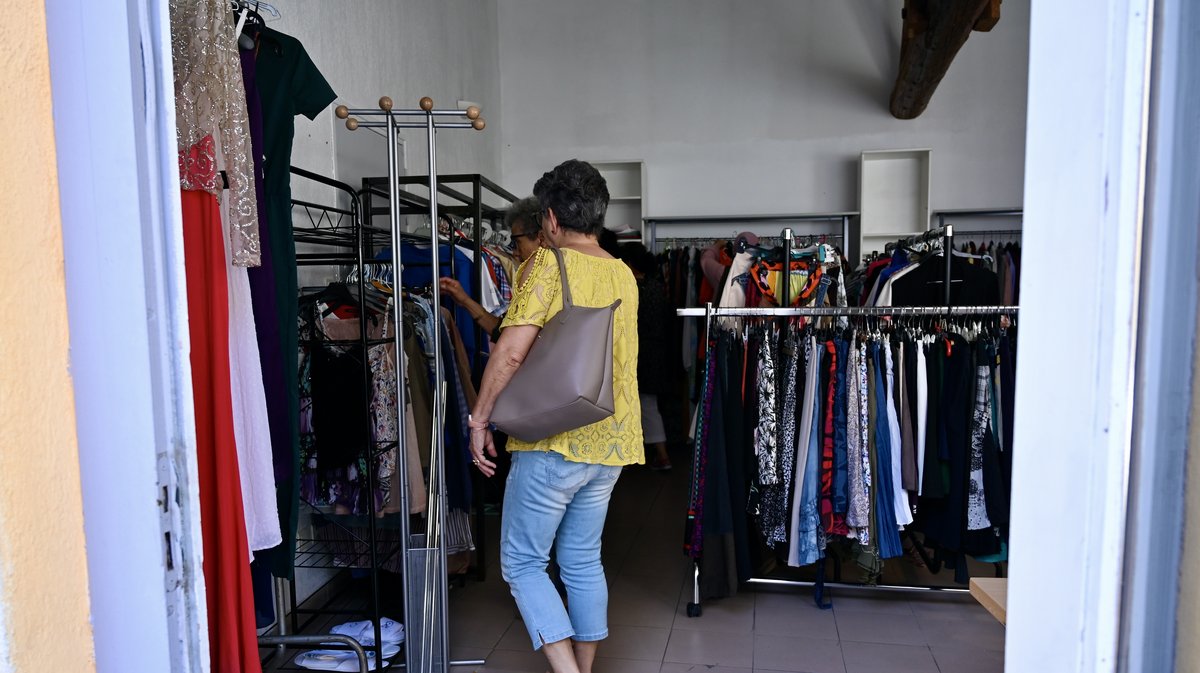 "What do we get today for €1? A loaf…and not even that, in fact", says a regular at the store. Fatima also regularly frequents these departments. "Today we don't have enough money, everything is expensive. Even eating is too expensive."Over one year, according to the study carried out by INSEE, consumer prices increased by 4.9% in August, after + 4.3% in July. Let us also remember that the poverty rate in France stands at nearly 15%, again according to INSEE.
Fatima, with a maximum budget of €50 in her pocket, quickly fills her basket with clothes for her whole family. Others are more reasonable. "We can try ?", a lady asks Baya."Just because it costs €1 doesn't mean you have to buy anything.", she says.
A solidarity grocery project
Open to everyone, this store, whose stocks come from donations, is a real place of life, conviviality and diversity, but also one of the financial levers allowing the association to carry out its aid and support actions. support for people in difficulty, "affected by great insecurity"."90% of the people we receive are undocumented, including even volunteers", says Martine. Just before our interview, she was busy making phone calls, getting her network working, to try to find an accommodation solution for a family of Algerian origin. "Parents and their three children aged under ten sleep in parks at night. Can we imagine such a thing?", she laments.
The fight against inequalities and improving access to rights for all are at the heart of the global project undertaken for many years by Secours Catholique. This includes learning the French language, access to healthcare and food. This last component, until now mainly open to cooking workshops, is moving towards the creation of a solidarity grocery store, but also that of a shared garden. Projects currently being considered. The Nîmes branch of Secours Catholique was also asked by the social landlord Un Toit pour Tous to run a shared garden in one of its residences in collaboration with its residents. The agreement is on Martine's desk, all that remains is to sign it…
The solidarity shop is open at 22 rue Briçonnet in Nîmes on Tuesdays and Thursdays from 9 a.m. to 12:30 p.m. and Wednesdays and Fridays from 2 p.m. to 5 p.m.