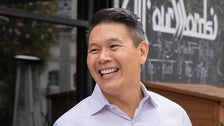 Derek Tran, a consumer rights lawyer and U.S. Army veteran, announced Monday that he is seeking the Democratic nomination in California's 45th Congressional District.
Tran's campaign is likely to shake up the primary contest to unseat Republican Rep. Michelle Steel, a top target for Democrats seeking to take back the House. Her Orange County-centric district is one of just a handful of GOP-held House seats where President Joe Biden won in 2020.
In an interview with HuffPost on Sunday, Tran said that in Congress he wants to preserve the opportunities that enabled his parents, who were Vietnamese refugees that started a corner store, to build a better life for their children in southern California.
"I'm running for Congress to put people over politics, to protect our democracy and to ensure that everyone, no matter what neighborhood they come from, has an opportunity to get ahead and live the American dream without fear of losing their freedoms," Tran said. "Unlike MAGA Michelle who's not on our side. She's turned her back on us, CA-45, and made Trump, her party, and corporate backers her priority. People deserve better."
Tran and his wife Michelle, a pharmacist, live in the city of Orange, where they are raising three kids. They are co-owners of a pharmacy, and Tran mentors underprivileged kids at an area school.
A number of contenders are already vying for the Democratic nomination in Tran's district, including Garden Grove City Council member Kim Bernice Nguyen, trial attorney Aditya Pai, and immigration attorney Jimmy Pham. But as of the end of June, none of them had raised a significant sum of money.
Tran, by contrast, is a significant donor and fundraiser, who can tap into a network of fellow trial attorneys. He serves on the board of the Consumer Attorneys of California.
Tran stands to benefit from his roots in the Vietnamese American community. In a district that is more than one-third Asian American or Pacific Islander, 17% of residents are of Vietnamese descent.
"My family's story and sacrifice resonates with a lot of people here," he said. "My service ― my record of service ― and my work as a consumer rights advocate and attorney will also resonate with voters here."
Tran characterizes himself as someone with a moderate approach to policy-making who would have no problem collaborating with Republicans to advance policy goals. He envisions himself joining the New Democrat Coalition, a business-friendly bloc of House Democrats.
Tran is passionate about preserving safety-net programs, having learned firsthand how helpful they can be. As a child, he recalls his family benefitting from Supplemental Nutrition Assistance Program (SNAP); the Special Supplemental Nutrition Program for Women, Infants, and Children (WIC); and Section 8 housing vouchers.
"These programs lift people up. I am a prime example of that," he said. "It's important that people work hard and sacrifice but it's important they have these opportunities."