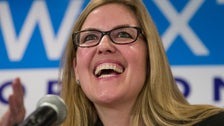 Rep. Jennifer Wexton (D-Va.) announced Monday that she would retire at the end of her current term after being diagnosed with a rare neurological condition.
Wexton, 55, had previously shared in April that she was diagnosed with Parkinson's disease, and said the condition had already begun affecting her speech and balance. But doctors now say she has progressive supranuclear palsy, a faster-progressing disease that, like Parkinson's, has no cure. She tweeted Monday that her new diagnosis means she'll leave Congress at the end of her third term, in early 2025.
"When I shared with the world my diagnosis of Parkinson's Disease a few months ago, I knew that the road ahead would have its challenges, and I've worked hard to navigate those challenges through consistent treatments and therapies," she wrote. "But I wasn't making the progress to manage my symptoms that I had hoped, and I noticed the women in my Parkinson's support group weren't having the same experience I was."
"I'm heartbroken to have to give up something I have loved after so many years of serving my community," she continued. "But taking into consideration the prognosis for my health over the coming years, I have made the decision not to seek reelection once my term is complete and instead spend my valued time with Andrew, our boys, and my friends and loved ones."
Progressive supranuclear palsy is a rare degenerative disorder that causes problems with walking and balance, as well as dementia. Only about 20,000 Americans over age 60 have the disease, according to UCSF Health. It is sometimes mistaken for Parkinson's in early stages.
Wexton knocked off Republican Rep. Barbara Comstock in a competitive Northern Virginia House race in 2018, a wave election year marked by backlash to Donald Trump. She went on to comfortably win two more elections, but her retirement could make the Loudoun County-based seat newly competitive.
Wexton, an attorney, is a member of the powerful House Appropriations Committee, which oversees government spending. But she told The Washington Post she's proudest of laws she helped pass as a Virginia senator to help women and mothers, including ones that help victims of revenge porn and secure the right of women to breastfeed in public. Wexton made headlines after her 2019 congressional swearing-in for flying a transgender pride flag outside her Capitol Hill office in honor of her niece.
She was part of a trio of Democratic mothers from Virginia, alongside Reps. Abigail Spanberger and Jennifer McClellan, who had recently joined Congress and were fierce proponents of gun control.
"People I know know I've struggled for a long time," Wexton told the Post this weekend. "I'll be able to relax and enjoy the time I have left and the time I have left in Congress."