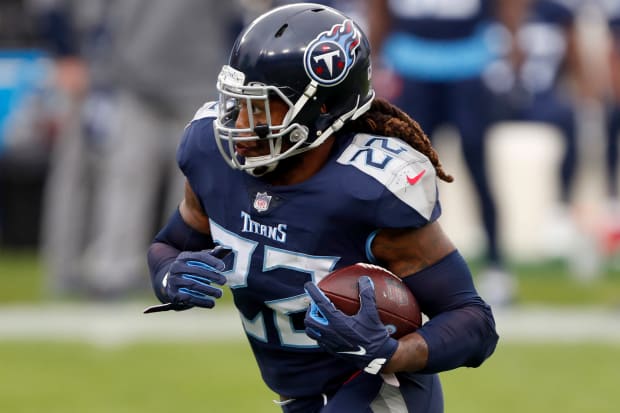 The hot stove received a thunderous jolt amid rumors of the Tennessee Titans shopping Derrick Henry.
However, that may not be the case.
Michael Silver of Bally Sports wrote Monday that the Titans began exploring trades for their star running back at the NFL Scouting Combine. But CBS Sports' Jonathan Jones said Tennessee hasn't considered moving Henry.
Jones wrote that Ran Carthon will be "methodical" in his approach. Trading Henry, on the other hand, would signify a complete teardown for a team that could have won its third straight AFC South title in Week 18 despite a late-season tailspin.
Henry recovered from a 2021 foot injury to register 1,936 yards and 13 touchdowns last season. He remains a top-tier running back who could help a contender bulldoze its way through the postseason.
Per Spotrac, Henry has the highest 2023 cap hit ($16.3 million) of any running back besides Ezekiel Elliott, who may have to restructure his deal to avoid the Dallas Cowboys releasing him. Elliott and Mark Ingram are the only active running backs with more career carries than Henry's 1,750.
It may make sense to shop the bell-cow back before the three-time Pro Bowler turns 30. Yet Tennessee's offense revolves around Henry, so such a move would derail the team's hopes of bouncing back and reclaiming a weak division.