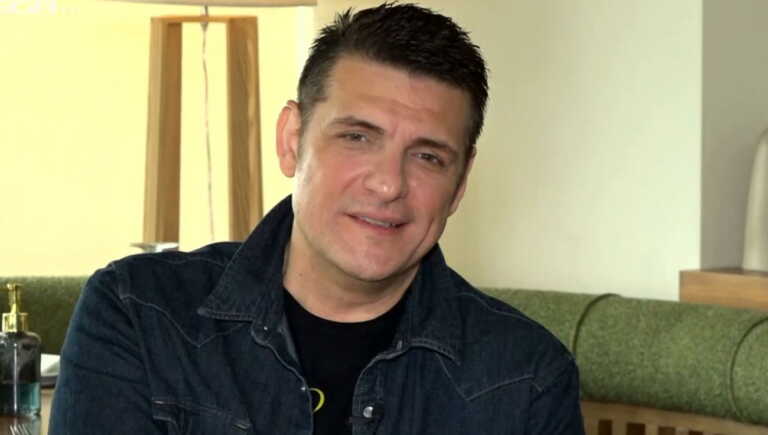 "My wife sent our children to Saint Ephraim and Saint Raphael" confesses Christos Antoniadis.
A comprehensive interview was given by Christos Antoniadis to the Soz magazine and to Andreas Theodorou, where he mentioned the difficulties he and his wife faced until they had their children.
In order to have your children, your wife, Aphrodite Tsonou, performed IVF…
Twice, yes. At first I thought that extracorporeal centers are for elderly people, people with serious medical issues. But what I saw when I went there was a long wait of young couples and I understood that the problem has no age.
Currently there are queues of new couples going there. We didn't know what the problem was, because the gynecologist couldn't find it. He thought we could catch normally. After the first extracorporeal examination, however, we discovered that there was a problem, which could not be seen before. So with the second time we caught the children.
We were lucky in that. I will say that in the right centers it becomes a job, but if after 3-4 times the matter does not come to fruition, it is good to be a little cautious about the continuation, because the woman's body suffers a lot with repeated extracorporeals. So some health issues may arise in the future.
Does such a procedure cost enough?
Compared to the abroad I hear about America, it's a mess here. For the facts, Greek is not easy, but not unapproachable either. It is something that is possible for the average Greek. From what we learned anyway, because we went to several until we ended up in this particular center, they all follow more or less the same method.
There are no magic tricks, there is a certain science that more or less everyone follows. So don't be delusional that someone knows some magic trick that someone else doesn't and you have to pay that someone a small fortune. People should be careful and ask for second and third opinions.
Having the first IVF and not having the desired results got you down?
From the first to the second, even to the third, if you are determined and don't have a serious financial problem, you can proceed. After that you start to think differently. We found out about the problem after the first IVF, so it was obvious that we would go for a second attempt.
Since it wasn't an easy pregnancy, did you make any plans?
My wife ordered our children to Saint Ephraim and Saint Raphael, which is why they have very distinctive names. One is called Konstantinos-Ephraim and the other George-Raphael. I believe in God, but not like my wife.
Would you have a third child?
Right now my legs are on fire, we'll see (laughs).
The article Christos Antoniadis: We didn't know the problem, the gynecologist couldn't find it was published on NewsIT .