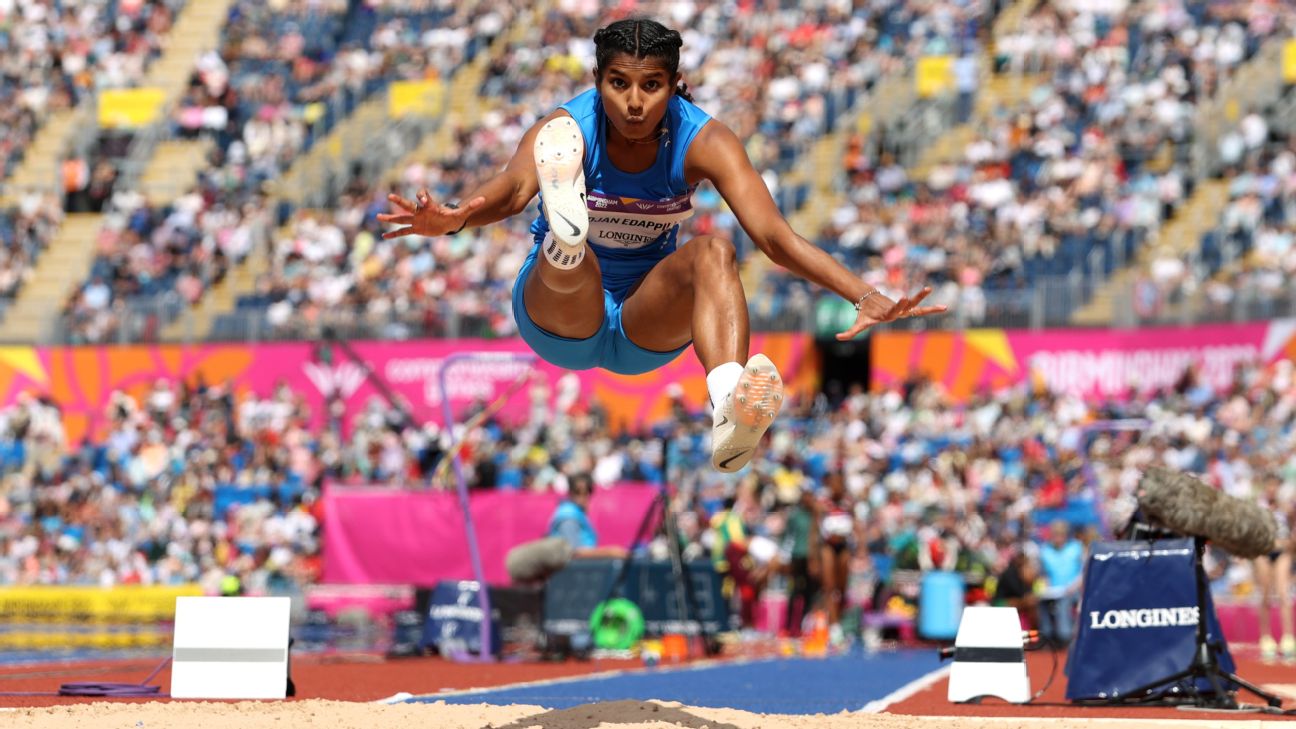 Ancy Sojan defied pre-tournament expectations to win silver at the Hangzhou Asian Games, becoming the ninth Indian woman to win a medal in that event.
Ancy was the #4 in the field when the event began and her younger compatriot, Shaili Singh, ranked #2, was more fancied to finish on the podium.
Sporting a blue headband, braided hair with multicoloured beads and a coat of orange taping on her left knee, she culled out a big jump of 6.63m to climb the podium. It was seven centimetres beyond her earlier personal best of 6.56m. And what better platform to leap to a new personal best than at the Asian Games – in one of her career's biggest competitions?
Ancy began the evening with a modest jump of 6.13, while China's Shiqi Xiong set the tone of the competition with a huge 6.62m jump. It was going to take something special from Ancy to not only catch up to Xiong, but also to steer clear of Japan's Sumire Hata, who won the Asian Championships and has a PB of 6.97m.
The Indian did not look fazed though. She began every jump by getting the crowd behind her, a big shriek and a leap into the pit. Her second jump measured 6.49m. A big improvement. She went even further in her third: 6.56m. It equalled her personal and season's best. More importantly, it also took her past Hong Kong's Nga Yan Yue [6.50m] into the second spot.
Halfway into the event, Ancy had cemented her spot in the top-3. And she was not to be displaced. Her fourth jump was 6.30m, but that built her up to the big one – a 6.63m in her fifth attempt. Waiting by the sandpit to see how much her jump measured, she let out a roar and thumped the bib on her jersey in celebration. She knew she'd assured herself of the silver.
She went for broke in her final attempt and that resulted in a foul, but it did not matter. Ancy had already begun celebrating, she had done what she had set out to do: climb the podium.
The other Indian in the fray, Shaili, she rued her chances as she sunk to the track after her final attempt. She missed out on the medal by a whisker: 2cm. Her best jump was 6.48m, while the bronze went at 6.50m to Hong Kong's Yue.
Ancy has enjoyed a good 2023: she won the Indian Grand Prix in Trivandrum, the Federation Cup and the Inter-States. Her only non-podium finish was at the Asian Athletics Championships, where she finished fourth. And that spurred her on for the Asian Games.
Training with former Russian triple jumper Denis Kapustin, a bronze medallist at the 2000 Olympics, Ancy has chiseled herself into a polished jumper. Until 2021, she ran the 100m, 200m and did the long jump at the junior level.
It was in 2022 when she made the full-time switch to long jump and the results began to show. Her best in long jump went from 6.28m in February 2021 to 6.55m in March 2022. She finished on the podium in every domestic competition except for the National Games, which were held a couple of months after her seventh-place finish at the Commonwealth Games.