"We can operate on suspicion, and we only have to prove to a balance of probabilities that assets are instruments or proceeds of crime," Hudson said.
The raid teams, often pictured storming into manicured gardens and through secure doors in Sydney's wealthy suburbs, bundle up every computer and document they can find.
They also take "tech dogs" that literally sniff out hidden USBs and hidden rooms concealed in massive homes to hoard illegal wealth.
"It's the $40,000 bottles of Cognac, some stuff we can't even value because there's no buyer. A handpainted watch, we can't really value it, but it's worth more than a million dollars," Hudson said, reflecting on the taste of the underworld. "The ugly handbags, the diamond-encrusted bra – that's real. It's all really gaudy and horrible."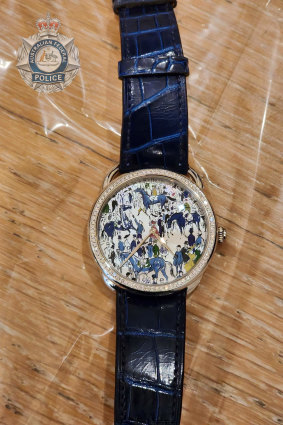 In the industrial areas of every major city in Australia are closely guarded warehouses filled with supercars, motorbikes, yachts and even private planes seized during the raids.
Hudson calls them an "affront" to the law-abiding Australians who pay their taxes and mortgages legally while criminals in their suburbs siphon money out of the country. They are held, managed and sold off by the Australian Financial Security Authority, which acts as a public trustee.
Hudson said $6 million was pulled from false floorboards under a shrine in Sydney in one raid. The criminals did less than a year in prison, she said, but the real hurt came from losing $20 million through restraints and forfeitures.
"If [criminals] lose a bit of a drug consignment, that's OK. They'll even do a bit of time in prison. That's just part of doing business," Hudson said. "But when they really get hurt is when they lose their homes, their cars and their girlfriends and their wives – it's when their families are losing."
Much of the money doesn't just sit in hidden rooms, however. Hudson said criminals will buy entire businesses for their girlfriends and wives, meaning the AFP has repossessed nail bars and hair salons.
It's "very common" for organised criminals to pay for homes mostly in cash, Hudson said. Often drug runners will walk into a bank with bags or pockets stuffed with notes to pay back the small loan that's supposed to cover up the origins of their wealth.
"We had one case where a bank reported a suspicious transaction because the money brought in to pay a mortgage was mouldy," she said. "It had been stored for a long time in a garage or shed or something."
Hudson said the taskforce has long surpassed its original goal to "divert" $600 million out of the criminal economy and back into the Australian economy. The assets are now being sold off and banked by the Commonwealth.
Almost a fifth of the AFP's total restrained assets include properties overseas – the details are kept under the greatest secrecy because they involve transnational crime dismantled with the help of foreign law enforcement.
"However, we can say we have got $200 million restrained offshore, Middle East, Asia, Europe," Hudson said.
"We have been working internationally to recover wealth from perceived safe havens and organised crime bosses of various backgrounds."
TOP 10 NSW SUBURBS FOR SEIZURES
Cawdor – $46.7m, five properties
Bella Vista – $35.78m, three properties
The Rocks – $34.75m, three properties
St Leonards – $24.23m, one property
Double Bay – $22.17m, one property
Sydney CBD – $17.6m, two properties
Marrickville – $9.98m, five properties
Glebe – $7.48m, two properties
Ultimo – $7.1m, three properties
Petersham – $6.8m, three properties
Law enforcement agencies in NSW, including the NSW Crime Commission, have seized tens of millions a year in their own right as well.
The commission, according to its latest annual report, confiscated $30 million in the last financial year, $50 million in 2020-21 and almost $31 million in 2019-20.
KEY RAIDS
St Leonards, Double Bay, Cawdor – Money Laundering
Federal agents in February claimed to have dismantled a $10 billion Chinese money laundering syndicate that had allowed foreign gangsters to pour $157 million into Sydney property.
Operation Avarus-Midas netted 21 properties including mansions on Sydney's harbour – photographs show suspects being led down spiral staircases from a flash Vaucluse home by police. They remain before the courts and have yet to enter pleas.
Multimillion-dollar homes were seized in Bella Vista, Bondi, Burwood, Croydon, Glebe, Ultimo and more.
A 360-hectare slice of land divided into five properties was seized by Avarus-Midas investigators in rural Cawdor, a suburb near Sydney's new planned airport, worth $46.72 million. The little known patch on Sydney's fringe became the highest-value suburb in the AFP's asset raids overnight.
Avarus-Midas also seized a home in St Leonards, worth $24.23 million and a home in Double Bay worth $22.17 million.
The Rocks, Bondi, Dover Heights, Wetherill Park – Customs Fraud
The AFP and Australian Border Force, in December 2019, raided an alleged large-scale customs fraud syndicate valued at $28 million. The seizures included $1 million cash, jewellery, luxury cars and gold. But there were also three apartments in The Rocks worth a combined $34.75 million, a home in Bondi worth $1 million, one in Dover Heights worth $4.5 million, one in North Bondi worth $2 million and another in Wetherill Park worth $2.6 million.
Operation Cabestro restrained $44.85 million and spanned both Sydney and Melbourne.
Eastlakes, Mascot – Human Trafficking
Agents arrested a man and woman in Eastlakes in December 2019 after an investigation into human trafficking. They found a 26-year-old Indonesian woman had been held against her will and forced to work for no pay in their multi-million dollar homes. Operation Falchion resulted in two homes, worth about $2 million each, being restrained.
Marrickville, Petersham, Carramar – Money Laundering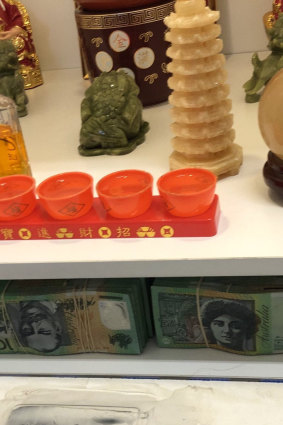 Forensic teams uncovered hidden voids beneath a religious shrine and the floorboards inside a Carramar home in 2022. Stacks of $100 notes, totalling more than $2.6 million, were pulled out and laid across the bed.
The home was seized along with five others in Marrickville worth about $10 million and another three in Petersham worth almost $7 million in the investigation that followed.
A 59-year-old "auntie" of a Vietnamese money laundering network was sentenced to almost three years in prison earlier this year over the discovery.
Start the day with a summary of the day's most important and interesting stories, analysis and insights. Sign up for our Morning Edition newsletter.