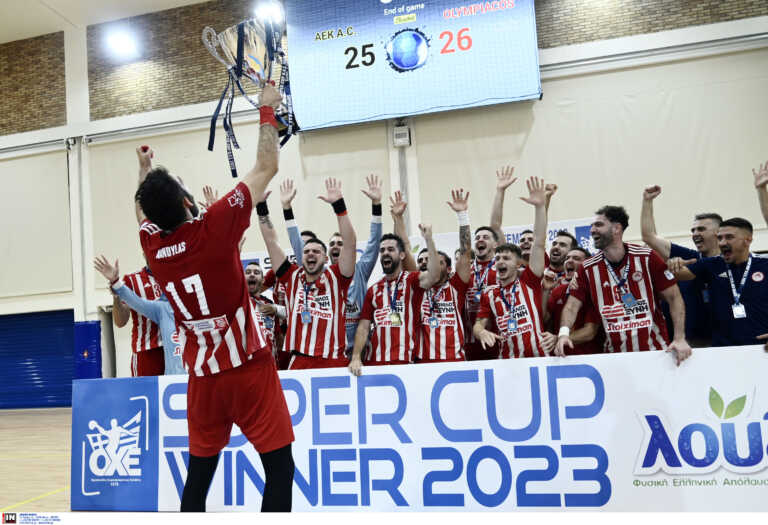 After a sensational final, which was decided in overtime, o Olympic "bend" her AEK with 26-25 and won the Super Cup in men's handball for the second time.
The first title of the season in Greek handball was decided after an exciting match, which highlighted Olympiakos as the winner, with a goal by Savvas for Piraeus, at the end of the extra time of the overtime.
Earlier, AEK had made a great comeback from 20-16, to tie the match in regular time, but finally "fell" in overtime and Olympiacos won the Super Cup.
The five minutes:2-2, 4-5, 5-5, 8-6, 9-10, 11-13 (d), 13-15, 15-17, 17-21, 20-22, 21-22, 22-22 (pp.), 23-23, 25-26
The compositions and goals in AEK – Olympiacos
AEK:Matskevich, Arabatzis 4, Zambitz 1, Ionson, Madalinic 10, Mallios 1, Iliopoulos, Papadopoulos, Papadionisiou, Komarzevski 1, Liapis 4, Martinovic 3, Arsic, Sokolic, Lemos 1, Kederis.
Olympiakos:Kotanidis, Tziras 2, Karabourniotis 1, Papavasilis 2, Vida, Tziboulas, Papantonopoulos 1, Kandylas, Sliskovics 9, Dombris, Tsigaridas 1, Passias 2, Montoro 1, Slavoulitsa, Michaelidis 2, Savvas 5.
The article AEK – Olympiacos 25-26: Title with a buzzer beater for Piraeus in the handball Super Cup was published on NewsIT .