The chief economists of the Finnish Confederation of Business and the Municipalities told why it is not possible to pay all full-time employees a salary that the prime minister thinks would be fair.
In the SAK election exam, a fair salary of 3,000 euros was proposed for full-time workers.
According to experts, a brisk wage increase would increase unemployment and reduce competitiveness.
In the SAK election exam, the question was asked what is a fair salary that a full-time worker earns. However, the economists interviewed by Iltalehti state that fairness and realism do not go hand in hand.
In the question of the election exam, the important thing was not in which field the person works, but what kind of compensation a person who works eight hours five days a week should at least receive, so that it seems like a fair compensation.
Prime minister Sanna Marin (sd) was the only one who gave an unequivocal figure: 3000 euros.
– When the industry is not defined, I thought about the difference between the lowest salary and the average salary. I would say that this goes more to the lower corner, Marin explained his choice.
Half Earn less
– Wages are of course determined in negotiations at the union and company level, but the idea of ​​a minimum wage of 3,000 euros is completely unrealistic, the responsible director of economic and tax policy of the Finnish Confederation of Business and Industry Penna Urrila states.
– Many who do work based on education and professional skills for a long time Earn less than this.
According to Statistics Finland's experimental income register's salary and bonus income statistics, the median income of Finns was 3,036 euros per month in September. In other words, half receive more than this, and half receive less than this.
– The idea that you have to get by with your salary may be beautiful, but in Finland the social security system and salary complement each other.
This is a standard starting point in all European countries.
Unemployment would rise
It's good to talk about raising salary levels, but there are challenges, especially from the point of view of employment.
– If the salary is raised from, say, 2,500 euros to 3,000 euros, the price of the work will also rise. It weakens employment, as the workplace may have to reduce employees in order to be able to pay this salary, the Chief Economist of the Municipal Association Minna Punakallio states.
Fewer and fewer jobs could be done profitably, which would lower the employment rate. This would be a particularly bad thing, because society does not run on a low employment rate.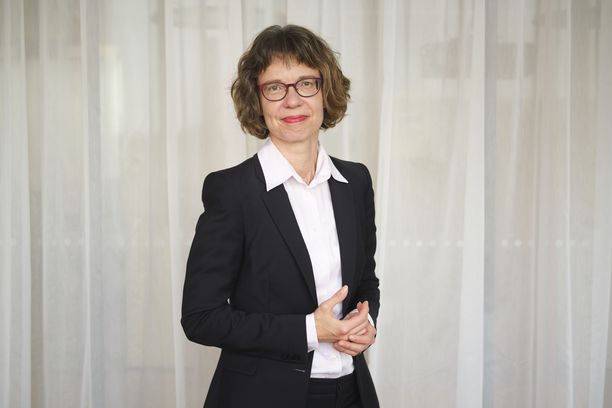 Minna Punakallio, the chief economist of the municipal association, says that the wage level in many service industries has been set very low, which is why employees do not commit to a job for a long time. Association of Finnish Municipalities
Collapse of competitiveness
A rapid rise in wages as productivity slows down would weaken Finland's competitiveness on the international market. In other words, compared to competitor countries, Finland would have high production costs and services would cost millions.
After the financial crisis in 2008–2015, Finland lost competitiveness compared to the euro countries. Then wages rose steadily, but productivity developed poorly. Competitiveness collapsed by about 10 percent.
– Unemployment was high and public finances were weak. That's why the kiky contract was made as a repair shop, says Urrila.
The competitiveness agreement included, among other things, freezing the wage level, extending working hours and cutting holiday pay.
– It was a very difficult and painful process and it is probably still in the memory of many Finns, he says, stating that he does not want to be in the same situation again.
Impact on taxation
If full-time workers were paid higher, tax revenues would increase.
However, the fact that wages start to rise leads to an increase in public sector costs. This is due to the fact that as wages in the private sector rise, the services they sell, which the public sector buys, also become more expensive.
– Every single income stream is valuable in the national economy, and even small salaries are taxed. Tax revenues do not only come from the high salaries of employees of large companies, Minna Punakallio reminds.
In addition to this, as unemployment increases, the number of people receiving benefits would increase and more tax revenue would flow to support these people. Thus, in terms of the balance of the public sector economy, employment is key.
– When as many people as possible work, there are fewer people who need support. That's why part-time or low-paid jobs are always a better option than full unemployment, Penna Urrila adds.
Penna Urrila from the Finnish Confederation of Business reminds that in Finland the social security system supplements the salary, but there is room for improvement in fitting part-time and gig work into the system. ROB ORTHEN
Low-wage industries
– 3,000 euros is a pretty tough proposition, but it is by no means the kind of salary level in big cities that is splashed out on, Punakallio points out.
– It is good that raising wages in low-wage sectors in particular is being discussed, but on the other hand, it also requires the cooperation of private companies and public sector decision-makers. If this was just lumped together, it wouldn't work.
However, he wonders if a higher salary could bind workers in low-wage sectors and thereby improve their promptness and productivity, which is eroded by high turnover. If productivity increases, there is also more room for employees.
– Of course, an important follow-up question in all of this is how this would be implemented effectively.