Ulm clinched the second win of the season in Heidelberg on Sunday and cracked the 100 points. Oldenburg meanwhile clearly won against Göttingen. In the evening, Alba has the MHP giants from Ludwigsburg as guests.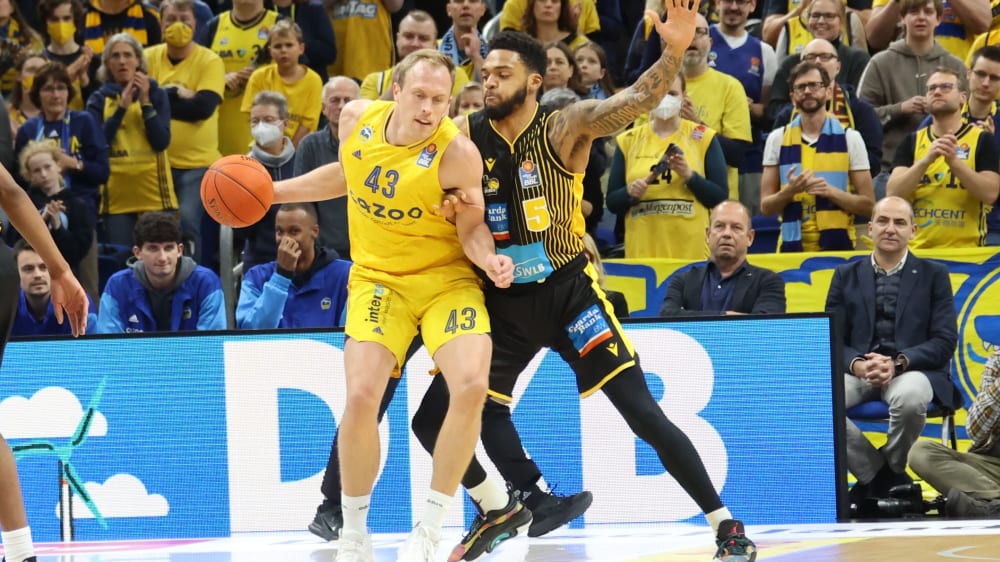 Yovwl Zoosman.
picture alliance / nordphoto GmbH / Engler
Alba Berlin remains undefeated in the basketball Bundesliga. The German champion defeated pursuers MHP Riesen Ludwigsburg at home on Sunday with 99:91 (45:44). After the last three defeats in the Euroleague, Alba gained new self-confidence. The best thrower was Christ Koumadje with 17 points. Captain Luka Sikma pulled off a rare double-digit triple double in three statistical categories with 11 points, 10 rebounds and 10 assists. Isaiah Whitehead scored best for Ludwigsburg with 21 points.
As expected, the game was intense and physical from the start. Both teams showed a good offensive rhythm. The guests from Ludwigsburg scored well from distance and went into the second quarter with a narrow 24:23 lead. Here their hit rate dropped a bit. So the Berliners led 45:44 at the break.
Alba was initially able to gain a double-digit lead thanks to superiority in the rebound and under the basket. But the strong guests didn't let themselves be shaken off and were able to shorten the lead to 69:72 before the final section. The hosts fell behind early in the fourth quarter, but held back. In the tight final phase it went back and forth. A three by Jaleen Smith to 94:88 in the final minute brought the decision in Alba's favour.
EWE Baskets Oldenburg – BG Goettingen 93:75 (22:16,16:22,30:13,25:24)

Points EWE Baskets Oldenburg: Leissner 25, D. Russell 15, Holyfield 13, Pjanic 11, Hundt 9, Drechsel 7, Classes 7, Dileo 6
BG Goettingen: Smith 23, Crandall 14, Frey 13, Pape 13, Bess 8, Hammonds 2, Kamp 2
Viewers: 6000
MLP Academics Heidelberg – ratiopharm Ulm 96:106 nV (21:24,14:25,29:12,24:27,8:18)

Points MLP Academics Heidelberg: E. Washington 25, Lasisi 18, Ugrai 16, Griffin 8, Coleman 7, Davis 6, Vargas 6, Herzog 4, Kesteloot 4, Würzner 2
ratiopharm Ulm: Klepeisz 22, Dos Santos 21, Jallow 20, Bretzel 13, Christen 12, Nunez 8, Hawley 4, Fuchs 3, Jensen 3
Viewers: 3387
Alba Berlin – MHP Riesen Ludwigsburg 99:91 (23:24,22:20,27:25,27:22)

Points Alba Berlin: Koumadje 17, Blatt 15, Smith 13, Thiemann 12, Sikma 11, Schneider 8, Delow 6, Wetzell 6, Zoosman 6, Lo 5
MHP Giants Ludwigsburg: Whitehead 21, Hubb 18, Dunn 13, Miller 9, Bartolo 8, Hartmann 7, Johnson 6, Roberson 6, Edigin 3
Viewers: 7279