FC Barcelona digested the Clasico defeat well and ultimately clinched a comfortable win against Villarreal. The Catalans struggled initially, however, before seven minutes, in which the 3-0 win was shot out, changed everything.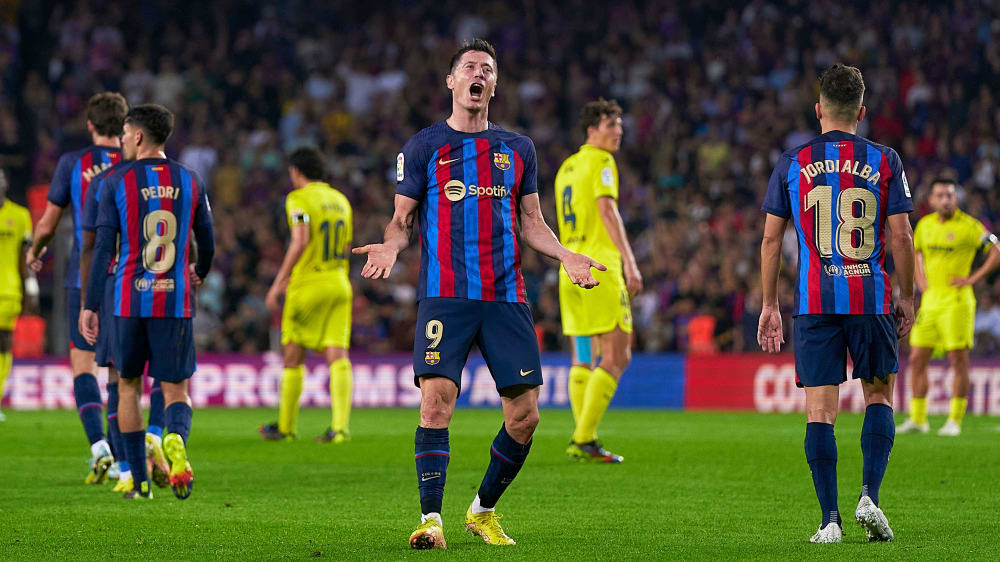 Robert Lewandowski celebrates one of his goals against Villareal.
Getty Images
After two disappointing games – against Inter in the Champions League (3-3) and the lost Clasico (1:3) – Barcelona were already under pressure against Villarreal on matchday 10. In order to be able to stay close to arch-rival Real, after two games without a win, a threesome had to be found.
First nothing works at Barcelona, ​​then almost everything
At first, Barça, who changed five positions compared to the Clasico (Marcos Alonso, Jordi Alba, Ansu Fati, Gavi and Ferran Torres play in place of Garcia, Balde, Dembelé, Busquets and Raphina), found it difficult against the closely ranked 4th -2-2 of the Yellow Submarine. The Blaugrana's attacking moves were too uninspired to seriously embarrass Raul Albiol and co. Defensively, the Catalans always had to watch out for the guests, who were always waiting for a counterattack.
After about half an hour, however, the offensive knot burst – and how. Within seven minutes, Barça shot out a 3-0 break. After Pedri's through ball and Jordi Alba's low cross, Lewandowski let two opponents out in one movement and scored the lead (31′). Just four minutes later, the Pole followed up with a flick from the edge of the box (35′). The Catalan offensive spin was perfected shortly afterwards by Ansi Fati, who initially stumbled on a pass from Ferran Torres against the post, but then converted the follow-up shot himself from just a few centimeters (38′).
Barcelona then came out of the dressing room with more vigour. Villarreal didn't manage to close the field as well as in the first 30 minutes of the game. Ansu Fati missed his second goal from an acute angle (52′).
After about an hour, however, the Catalans shifted down a gear. Because Villarreal no longer brought the great vigor to the field and didn't manage to seriously endanger Ter Stegen's goal, the game languished.
Jokers bring a little more momentum
In the final phase, a few changes gave the Catalans a little more momentum, but there were no more goals. Joker Raphinha missed the best opportunity when he extended a cross from Dembelé, who was also a substitute, from close range just wide of the goal (79′). Nothing came from Villarreal except for a shot next to the goal of Manu Morlanes (90 + 2).
Even if it didn't look like it in the first 30 minutes, with the ultimately clear and sovereign victory, Barça is three points behind leaders Real Madrid on their heels.

Barcelona

villa real
game info
| | |
| --- | --- |
| Stadion | Camp Nou |
| Viewers | 73,261 |
Two more home games are now waiting for Barcelona – on Sunday against Bilbao and next Wednesday in the Champions League against FC Bayern Munich (both 9 p.m., LIVE! on kicker), who, unlike the Catalans, have already qualified for the round of 16. Villarreal host league newcomers UD Almeria on Sunday (6.30 p.m.).