Since the beginning of the war, almost 40,000 Ukrainians have applied for residence permits in Sweden in accordance with the Mass Refugee Directive. There are already around 13,000 people born in Ukraine registered as living in Sweden. It is a large group of potential workers.
When we visit the courses in Swedish in the ABF premises in Huddinge outside Stockholm, several war refugees say that they are overwhelmed with dubious offers from various employers. They show ads in digital, Russian-language jobseeker groups. We can see that the hourly rate offered can be as low as SEK 70, far below all the collective agreement recommendations, and trial work without pay may be required for work.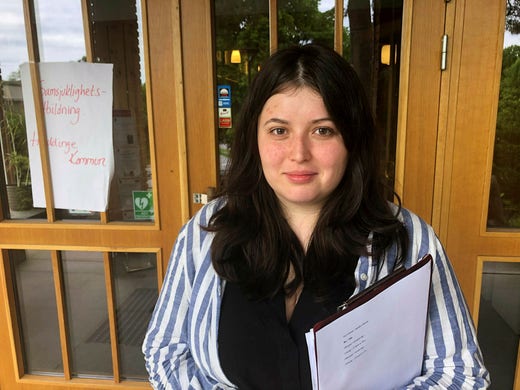 In mid-March, Anastasia Hrytsenko left the city of Zhytomyr, where Russian airstrikes destroyed hospital buildings, schools and homes.
In addition to the trauma of escaping from the war, the 29-year-old social educator has had a tough first time in Sweden, where she is looking for legal work but only finds undeclared work.
A job offer she received was to paint window frames on a house. Anastasia explained to the employer that she had all the necessary documents to work.
– But they said it was not needed, because they wanted me to work illegally. They wanted to give me less than SEK 100 an hour, says Anastasia and adds that so far she has not received a single serious proposal for a job.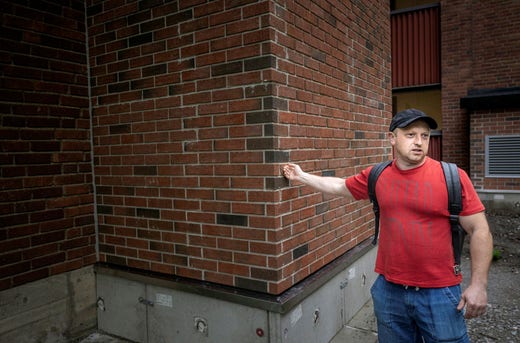 At a brick house at Fridhemsplan in central Stockholm, the Ukrainian Yurii Yanko is examining the wall he built with a colleague last winter. He pulls his palm along the facade and bursts into a big smile.
Why are you smiling?
– I'm just so happy that I do not work here anymore, he says and laughs.
Then he tells about the nightmare, when he and his colleague were to attach large metal plates with glued tiles on the facade.
– The tiles were one meter wide and half a meter high. We had to carry them by hand up the scaffolding and then set them up. They weighed between 30 and 40 kilos. The power of the arms completely ran out, especially when we carried them up to the fourth and fifth floors.
The usual equipment for celebrating the tiles along the house wall was missing. Yurii Yanko describes that the two construction workers often worked ten hours a day with the heavy lifting.
– I came home completely powerless and collapsed, he says.
Now he no longer smiles. He tells about how he was used in various ways at the Swedish construction company with eight million in annual turnover. At first, the company did not pay taxes for his work, so Yurii Yanko worked illegally without understanding it. He describes how he did long shifts on the weekends, sanded concrete in heavy dust. And on an assignment in Norrköping, he slept on a mattress in a small studio with four other workers.
– There were no human conditions.
Yurii Yanko says that he was not allowed to work the hours he was promised – and that he also received a significantly lower salary than agreed. The agreed monthly salary of SEK 36,500 was in reality SEK 12,000, 16,000 and a month as low as SEK 8,000.
– It is very expensive to pay for housing here. And then you have to get money. It benefits employers. They give the workers just so that they can manage and continue working, he says.
Yurii Yanko left the company and now demands his right through the trade union SAC Syndikalisterna.
– Yurii has worked completely in violation of the collective agreement that the company has. According to our calculations, he has been cheated of more than SEK 100,000, says Emil Boss, negotiation secretary at the Stockholm part of the SAC Syndicalists.
However, the company claims that Yurii Yanko received the agreed salary.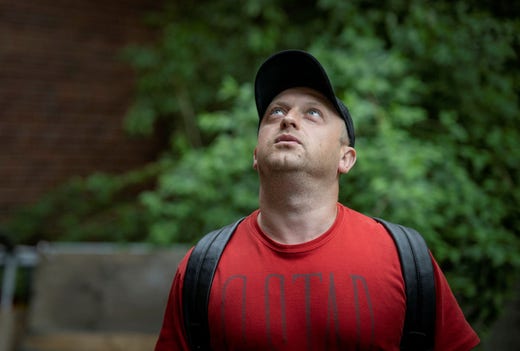 Oleksandr Stetsiuk also works as a construction worker. The company he worked for previously has, among other things, carried out construction work on the Riksdag building, where Oleksandr Stetsiuk also worked, but the Ukrainian believes that the company has not adhered to the rules. He says that he has been allowed to work when needed, despite the fact that he has had a full-time contract, and that the salary has been accordingly. When his family fled to Sweden from Ukraine, the money was no longer enough and it became a tough situation financially.
– They barely had any clothes and stuff with them when they fled, so we needed to buy all that again, says Oleksandr Stetsiuk.
The construction worker shows pictures of the job in the Riksdag on his phone. He explains that he did not know the rules on working hours and therefore agreed to the company's terms. Now he has found a new job with better conditions.
Emil Boss believes that the competitive advantage will be enormous for companies that use workers such as Oleksandr Stetsiuk when needed.
– But the victims stand with their hats in hand and become day laborers, despite the fact that it has been abolished in the construction industry for several decades.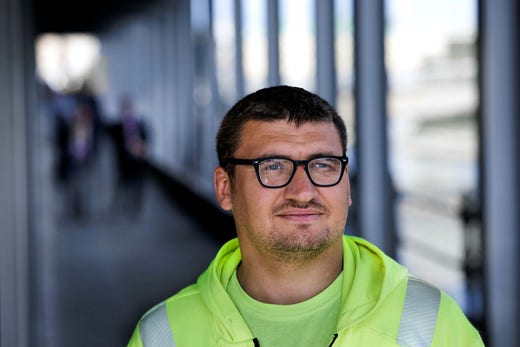 It is not possible to say how large the criminal labor market in Sweden is. But the Swedish Tax Agency's survey from 2021 shows that many see it as a problem. 16 percent of the entrepreneurs surveyed believe that they "are to a large extent exposed to competition from companies that cheat on taxes."
Emil Boss believes that since the outbreak of war in his home country in 2014, Ukrainians have had some of the worst working conditions for workers in Sweden.
– To some extent, it has been because so many people have been undocumented or been here on a tourist visa, he says.
But according to the EU's mass flight directive, they must be allowed to work legally now.
– And then you can think that they got better. But they continue to be exploited in a rather grotesque way. They are very isolated linguistically and have a different pre-understanding of what normal working hours are.
Emil Boss tells about Ukrainian refugees who already after a week in Sweden have had time to be grossly exploited.
– They come to Sweden, find jobs via a Facebook group and then they are in the hands of work-related criminal companies. It goes so fast.
We are talking to a woman who moved to Sweden from Ukraine and quickly started working. After the escape in March, the woman has now started cleaning hotel rooms in central Stockholm together with eight other women. The woman says that she works 30 hours a week but only gets a job for a few days, which means, among other things, that she has no job security and does not get a holiday. The woman says that she understands that the employer is exploiting her, but feels compelled to continue working.
– This is my first job in Sweden and I am in this situation. I also had nothing to compare with, so I did not know if this was right or not when I took the job.
The woman does not want us to write her name, because she wants to keep the job and get money for herself and her son in Ukraine.
Pia Bergman, an expert on economic crime at the Swedish Tax Agency, believes that there are major problems with work-related crime, but that some of them could have been prevented if Sweden had provided better information to refugees.
– There is definitely a lack of knowledge among those who come here. We are very bad at going out together and saying, "These are your rights and obligations." The authorities have certain information on their websites, which applies to those authorities. But there should be a simple overview where you can immerse yourself, she says.