Robert Bresson's films are hard little diamonds in film history. "The Pocket Thief" (1959) is around an hour and a quarter. It is one of the shortest movie classics you can see.
It would be scarce when the French director Bresson (1901-1999) created. No unnecessary talk, no unnecessary pictures. And, for God's sake, no acting!
The story would appear naked. He called the actors "models". They were preferably amateurs, but carefully selected. Their charisma and appearance would make them captivating.
With its strict aesthetic ideas, but also with his gaze and his feeling, Bresson achieved masterpieces. The films live on concentration and charge. Several pictures in "The Pocket Thief" show only a zeroed young man, Michel, among others traveling in a full carriage in the Paris metro. But we know his secret: he's a pickpocket. We follow his gaze. He's looking for prey. The young man pretends to read the newspaper, he has seen a more experienced thief use an open newspaper as camouflage to work under. "The newspaper shook my hands. My heart was pounding. " says Michel's narrator.
Almost nothing happens in the picture, yet you sit in full swing. A real pickpocket was a consultant and got a role as one of two thieves who become a kind of mentors and companions.
Michel, played by debutant Martin LaSalle, is driven by the pursuit of excitement, and by superhuman thoughts. He is encouraged by the fact that a commissioner is on his trail. The "pickpocket" is usually compared to Fyodor Dostoevsky's "Crime and Punishment".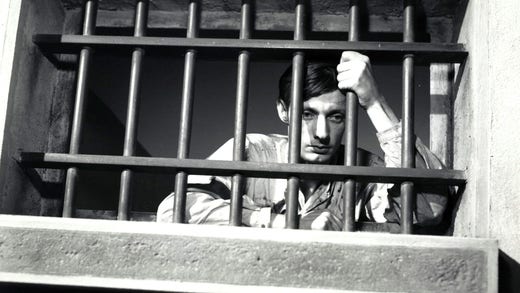 "The pickpocket" and "A death row inmate has escaped" (1956) are Bresson's most famous films. The latter takes place during World War II, and follows a young French lieutenant who in occupied France was active in the resistance movement and was arrested by the Germans. Locked up in a French fort, he must escape before it is his turn in front of the execution platoon.
As in "The Pocket Thief", it's a story made for Bresson's taste to keep down. The lieutenant (François Leterrier) is alone in his cell. His prying in the door with a stolen spoon must be done with small movements. The fear of death is like a suffocating pressure over the whole environment. The story is true, the film is based on Lieutenant André Devigny's book about his experience. Devigny was present during the filming of the real fort.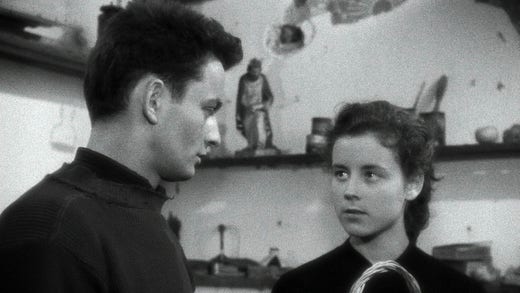 "The Priest's Diary" (1951) is more expansive Bresson. A young priest is allowed to take care of his first congregation in the countryside. He is devoted, and reproaches when he almost immediately begins to compromise. He feels inadequate, and there is something seriously and painfully wrong with his stomach.
This early Bresson became a whole hour and fifty minutes. A mistake, he never let it go again.
There are three films, all with a narrator's voice, about lonely young men in more or less desperate situations.
Disheartening?
No. Serious, but at the same time you see the vitality of the French film at this time. The new wave is just about to roll in. Robert Bresson's films are their own, strict, moral. On another level, now that you know what was going on, you see that they were the forerunner to the released celebration of a new film that would be arranged by authors such as Jean-Luc Godard, François Truffaut, Agnès Varda and Eric Rohmer, twenty thirty years younger than Bresson.