On Saturday, queers and allies can for the first time in two years go to a party and protest during this year's Pride parade in Oslo. Many believe this year's celebration could be the biggest ever.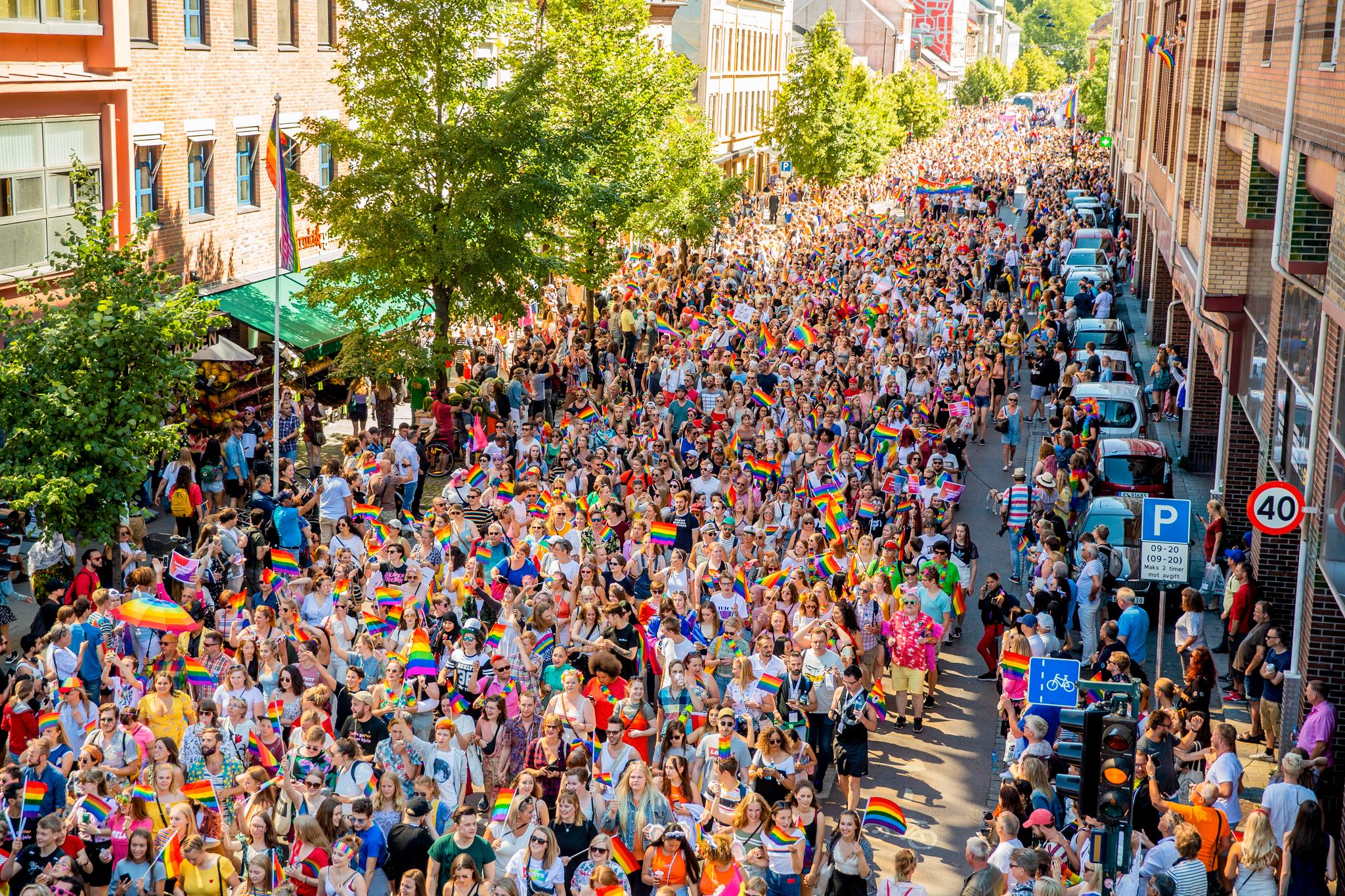 Newsletter Get an overview of this week's most important issues in Aftenpodden's newsletter.
The streets of Oslo are filled with festive people, rainbow flags and colorful rafts as this year's Pride festival ends with a huge parade through the capital.
For 50 years after homosexuality was decriminalized in Norway, people are seriously ready for a street party.
– After two years of pandemic, it has dawned on many how important it is for them to celebrate Pride. It is fantastic to be back to normal conditions, says leader of Oslo Pride Kristin Haugsevje to NTB.
Believe in record attendance
The last time the festival took place on a full scale was in 2019. At that time, Oslo Pride set a record for the number of attendees. The organizer thinks this can be repeated.
– We have had a large influx of people who are interested in celebrating and marking Oslo Pride this year, and it is especially nice that so many large cultural institutions have wanted to do something during this year's Pride, says Haugsevje.
Although the total number of participants will not be clear until Saturday afternoon, 148 fleets from various organizations, teams, companies and associations have already registered. In addition, a number of celebrities, politicians and members of society are expected to participate.
– This corresponds to approximately the same number as in 2019, which was the last time we conducted a parade, says Haugsevje.
50 years since decriminalization
This year's parade is the fortieth time Pride is held in Norway. Even though sexual intercourse between men was decriminalized in 1972, it took several years before many dared to appear gay because of the stigma many felt in Norwegian society.
– The parade at that time had a completely different feel than the folk festival we know today, says leader Inge Alexander Gjestvang in the organization Fri to NTB.
During this year's celebration, the 50th anniversary of the decriminalization of homosexuality will be an important focus for Oslo Pride.
– For many, Pride is the one queer free time they get a year, and going on a train with hundreds of thousands of like-minded and allies is a powerful and powerful experience for many of us, says Gjestvang and adds:
– Decriminalization fifty years ago really opened the ball for what Pride is today, and the fact that you are no longer described as a criminal for loving who you want, gives visibility and the opportunity to talk openly about equality and rights.
Goes in solidarity with Ukrainian queers
Several well-known profiles and organizations are participating in this year's celebration, in addition to the Oslo school for the very first time going on the train under its own banner. Another who will participate is Minister of Culture and Gender Equality Anette Trettebergstuen (Labor).
– This morning I got a memory on the phone that showed that it was three years the biggest Pride parade ever in Oslo where we danced around and celebrated in glorious sunshine. Now we can finally meet again, and it's lovely, says Trettebergstuen to NTB.
The Minister of Culture will himself go to the parade in solidarity with Ukrainian queers, who are not allowed to participate in the Pride celebration at home in Ukraine. On Saturday, Fri will also have his own fleet in honor of Ukrainian queers on the run, and several of them will go with Norwegians on the train.
– We have Ukrainians who will join us in the parade. It is very strong and gives perspective on the freedom we feel here at home, which benefits everyone, and which we should not take for granted, says Gjestvang.
Originally, Kyiv was also to hold its own Pride parade on Saturday, but due to the war in Ukraine, the celebration has been moved to the Polish capital Warsaw.
Trettebergstuen herself was in Poland on May 17 to meet Ukrainian and Polish queers, and before the parade this weekend she will meet some of them to talk about how they are doing.
– It is important that we mark Pride, because queer rights all over the world are still threatened and set back. Then it is important that we use our rights to take to the streets and show what matches remain, she concludes.
End of the party week
Pride events have taken place all week, but Saturday's parade is a highlight for many. It marks the end of this year's Pride, which in June took place in large parts of the world.
The largest celebration worldwide usually takes place in Madrid, Spain, where over 3.5 million people participated in 2017.
Saturday's parade in Oslo is broadcast live on NRK, something that has never happened before, and on Saturday night, the national broadcaster has set the best broadcast time for a special broadcast about Pride. In addition, the Storting will raise the rainbow flag in honor of queer rights.
Here are the details of Saturday's program:
The Pride Parade departs from Greenland at 13:00 and ends at Pride Park at 15.30.

There will be a parade show in Pride Park on the main stage at 15.45.

"Wind-down" with Skeiv Ungdom in the evening after the parade from kl. 18.00

"Bear Pride Party" at Røverstaden at 21.00. Age limit 20 years.
Here is a map of the route for Oslo Pride Parade: