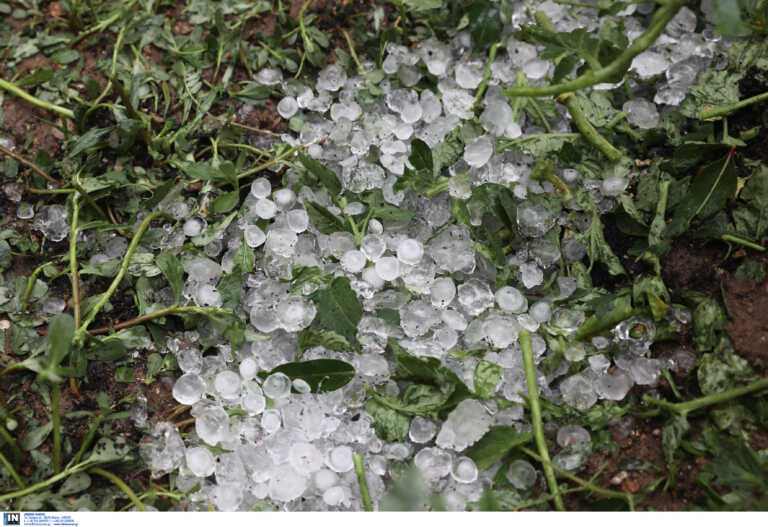 Farmers measure their wounds in Blonde after yesterday's disaster that hit the area for almost an hour causing incalculable damage to dozens of crops, uprooting trees and PPC columns.
Until now, the technical crews of HEDNO are making great efforts to restore electricity as the tornado that hit locally in the area of ​​the municipality of Topeiros "took down" many columns of PPC. Residents and technicians talk about an unprecedented disaster in the electricity network, since the wind was strong, which literally threw large poles on the ground.
Big problems also occurred in the crops since the heavy hail hit many villages and destroyed large agricultural areas. The vine growers who had anti-hail nets were lucky and managed to hold the hail, although in some cases they also received a lot of pressure and bent dangerously.
According to initial estimates, the hail destroyed about 45,000 to 50,000 acres, mainly affecting arboriculture, corn, sunflower and cotton fields. Just a few days ago, a similarly severe bad weather hit areas of Xanthi, causing great damage to crops.
In his statements, the Deputy Regional Governor of Xanthi, Costas Kourtidis, underlined that all the technical teams of the AMTH Region and HEDNO are working feverishly early in the morning both to restore the electricity supply and to deal with the damage caused to residential settlements and settlements.
There was also a power outage at the battery factory in Olvio, Xanthi, as a total of twelve PPC columns were removed, which were replaced. On the east side of the prefecture and although the weather was not as intense there as on the west, crops of kiwi, cereals and corn were destroyed.
Mr. Kourtidis pointed out that the crews of the Counter-Region, the Municipality and the Fire Brigade remain on alert today to repair the damage and to intervene again, if necessary from the afternoon onwards, as well as information on the occurrence of severe weather phenomena.
With its announcement, the Xanthi Sub-Region informs and warns that, according to the latest meteorological forecasts, during the afternoon and evening hours "there is the possibility of dangerous weather phenomena (strong winds and rain – thunderstorms) throughout the region. For this reason, citizens are advised to be especially careful, taking care of self-protection measures, avoiding unnecessary travel. "Recommendation is also given to the farmers to close their pumping stations".
Source of RES EIA
The article Xanthi: Damage to hail and tornado crops – Many villages in the dark published in NewsIT .