– It is about these times that I train to swim at the moment, says Sarah Sjöström who now invests harder in the 50 meter distances.
Sarah Sjöström's silver time of 52.80 was 13 hundredths slower than 18-year-old Mollie O'Callaghan, Australia, who swam home her first individual World Cup gold.
In the semifinals, it was O'Callaghan who opened the fastest.
Before the final, Sarah Sjöström talked about that she would dare to go out tougher than she had done in the semifinals.
She did. In the final, she swam the first 50 meters in 25.35 compared to 25.7 in the semis.
Sjöström was in the lead after the first length, while O'Callaghan accounted for a more cautious opening and was in sixth place.
However, the teenager came very strong at the end, and passed by.
For Sjöström's tough opening also had a prize.
– What is difficult about 100 meters freestyle is that you let others surf a little on your wave, and it is quite difficult to take two people with you who surf, says Sjöström.
Third in the race came 19-year-old Torri Huske from the USA.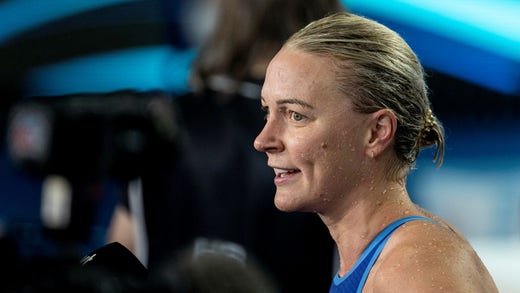 Sjöström has a smile on her face, and a water bottle in her hand, when she stays for a short while in the mixed zone after the final of the 100 meter freestyle.
As she will also be swimming 50 meters butterfly later in the final session, she will have to swim fast.
Before the World Cup in Budapest Sjöström had won 16 World Cup medals in long distance.
That makes her historically the woman who has taken the most.
Eight of the medals have been gold. But she had nothing in the distance 100 meters freestyle, a distance where she holds the world record (51.71).
In the WC, she has previously taken silver in 2013, 2015 and 2017 and bronze in 2019 in 100 freestyle.
– I think this is like my seventh silver in a total of 100 meters freestyle in various championships, says Sjöström with a laugh.
– But shit the same, I'm very happy anyway. Some of the best are not included and then maybe it would have been a fourth place, Sjöström continues and thinks of Olympic gold medalist Emma McKeon who chose to give up the World Cup and silver medalist Siobhan Haughey who was forced to leave a late cancellation due to injury.
Read more: "Slangbellan" will give Sjöström a flying World Cup start
Read more: "Swims the worst when the fat percentage is too low"
Read more: Sjöström's new life: "Taught me to use screwdrivers"