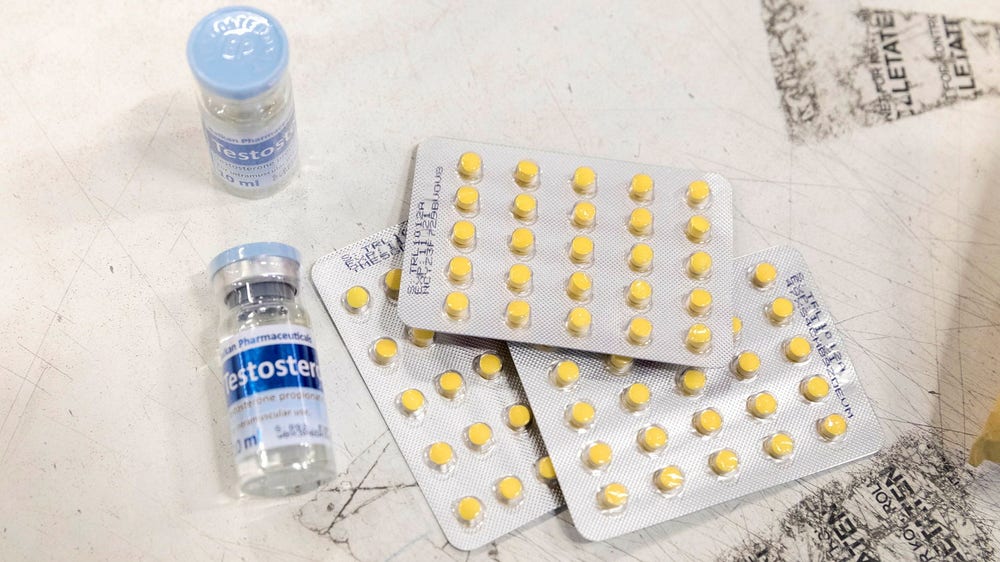 Prescribing testosterone to adult men increases. According to the National Board of Health and Welfare, the proportion of men per capita who took out at least one testosterone prescription per year increased by more than 150 percent between 2006 and 2021. The highest proportion is found among men aged 45–64, a group not previously associated with testosterone deficiency.
The prescription varies significantly across the country with the highest levels in Stockholm – Gotland. It is less than half as extensive in Östergötland. In Stockholm, more than 1 percent of men aged 45–64 have been prescribed testosterone since 2013. In Västernorrland, prescribing to men in the age group 35–44 has increased sixfold in the last 15 years.
The increasing prescription is reflected in the sales value of testosterone, which increased from SEK 8.7 million to SEK 98 million (calculated in fixed prices) between 2000 and 2020. That year, 75 percent of men were reimbursed for the cost of the drug benefit system, ie by taxpayers, to a cost of SEK 73 million. The largest amount of testosterone is prescribed in injection form, unlike abroad where gel that is applied to the skin is most common.
It changed the pattern of prescribing speaks against an underlying general biological phenomenon and more for social, cultural or commercial reasons. The only approved indication for prescribing testosterone to men is impaired function in the organs that regulate testosterone production, so-called hypogonadism. According to guidelines, the diagnosis must be determined on the basis of both clinical symptoms and repeated laboratory analyzes.
In addition, good knowledge and commitment is required regarding the differential diagnoses that may be relevant for men who seek with, for example, fatigue and sexual problems. Known causes of hypogonadism are injuries and diseases of the testicles, the pituitary gland of the brain or the influence of alcohol or drugs such as opioids and cortisone.
The National Board of Health and Welfare's register of diagnoses in specialized outpatient care notes a marked increase in hypogonadism between 2001 and 2020. The registration has improved over time. Therefore, the absolute figures are uncertain, but the rate of increase has been remarkably steep, especially for men aged 45-64.
Of course, men with hypogonadism get adequate treatment, but testosterone replacement is not harmless. Available data from long-term studies suggest a certain association with an increased risk of cardiovascular disease. It is unclear whether the risk of prostate cancer increases or if it becomes more aggressive.
We believe that current developments need to be examined and suggest the following:
1. Clarify the causes of the increase in hypogonadism. What criteria are used to make the diagnosis? Why does it increase most among middle-aged men, often without known underlying diseases? Committed clinical research is needed here.
2. Clarify the reasons for the increased testosterone prescription. Why does it increase and how is it related to the diagnosis of hypogonadism? Who prescribes testosterone? What is behind the large geographical variations? Drug epidemiologists and other researchers should clarify basic connections, but to understand the increasing testosterone prescription on a deeper level, different perspectives than the purely medical ones are needed.
3. Evaluate risk and benefit with current prescribing. Many of the symptoms associated with testosterone deficiency can be caused by other conditions such as obesity and type 2 diabetes. Treatment of these conditions normalizes testosterone levels. The National Board of Health and Welfare and the Medical Products Agency should therefore jointly analyze the current prescribing pattern and make a risk-benefit assessment.
4. Clarify the rules for testosterone prescribing during digital visits. Several digital private care providers offer targeted questionnaires about symptoms that may indicate testosterone deficiency and sampling. This activity should be reviewed. To what extent is hypogonadism diagnosed? Is potent drug treatment being started without clinical examination?
The Swedish Medical Association's ethical rules state the following: "The doctor shall not give advice or treatment without examination or other sufficient knowledge of the patient." We propose that the Medical Products Agency investigate a restriction of the right to prescribe in connection with digital new visits where the diagnosis is unclear. The National Board of Health and Welfare should report how digital visits can be equated with physical visits in this context where a medical examination of the testicles and prostate is mandatory.
5. Say no to financial sponsorship of care programs. The Swedish Andrological Association, a medical association of interests in the doctrine of male reproduction, has long been dominant in national guidelines for testosterone treatment. According to the association's current website, they are sponsored by the companies Bayer, Ferring and Kyowa Kirin, which sell testosterone preparations on the Swedish market.
It is deeply inappropriate for professional associations in this way to receive support from pharmaceutical companies with products in the field. It testifies to a lack of knowledge about the meaning of discrepancy. We suggest that the organizations and individuals concerned distance themselves from this.
6. Review the regulations for marketing diagnoses. Digital private caregivers hand out advertisements for visits for investigation and treatment of testosterone deficiency. This marketing serves only a commercial function. According to the Swedish Medical Association's ethical rules, doctors must "refrain from intrusive marketing".
We propose that the Riksdag revises the current regulations. Why should it be allowed to "advertise" a diagnosis? Or rather, advertising for an explanatory model of many possible, and which attracts with a simple and quick solution?
7. Pay attention to the connection to addiction and crime. Supply of testosterone when there is no deficiency is by definition a form of abuse and falls under the doping law. In sports, it is known as anabolic androgenic steroids (AAS). Abuse often occurs together with drugs, gun crime and violence in close relationships. The Swedish Prison and Probation Service's experience therefore provides an important perspective on the problem, which can be translated into important research issues.
8. Increase competence in healthcare. Decreased desire and potency problems are rarely due to too low testosterone. Depression in men can be misdiagnosed as testosterone deficiency. Testosterone / AAS abuse should be considered as a differential diagnosis, not least in psychiatry. Employers, and in particular the regions, must meet the need for impartial medical training in this area.
9. Understand patient rights correctly. The view of patient rights and the patient as participating in their own care has developed in a meritorious way. But this does not mean that patients can pursue their own interests in a way that can harm themselves in the long term and with increased social costs as a result. Here, a nuanced picture of the relationship between patient and doctor is needed. A no to prescribing does not automatically mean that a mistake has been made, it can be the other way around. We propose that the Swedish Medical Ethics Council address the issue.
It cannot be ruled out that an increasing testosterone prescription may in part have a medical explanation and that there may have previously been under-prescribing in certain groups. But it is more likely that the increasing prescribing reflects other phenomena in our time such as body ideals, interest in "hormonal health", an increasing willingness to meet patients 'wishes (by other than certain established medical goals) and pharmaceutical companies' demands on larger target groups.
Overdiagnosis and medicalization in healthcare, fueled by inappropriate advertising, is a dangerous path. It is contrary to guidelines and ethical regulations for the medical profession and undermines the healthcare economy.
Underlying causes in need of other therapy can be overlooked and endanger public health. For testosterone in particular, other serious societal problems are added.