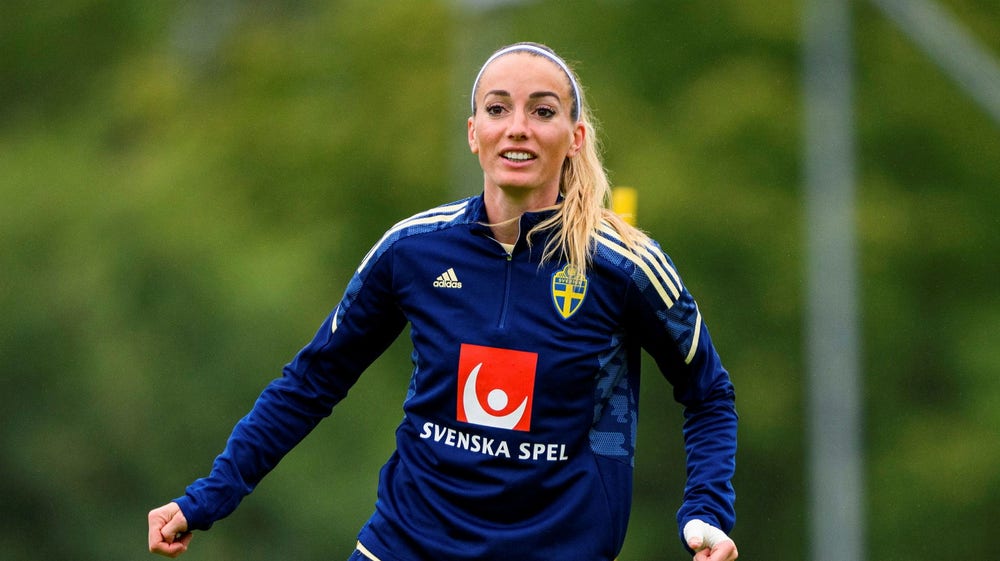 Three years ago, Kosovar Asllani was one of the first major signings in Real Madrid's women's venture. The Spanish big club had then taken over the existing women's team CD Tacón and began a journey to establish itself on the women's side as well.
Now Asllani has left the club and signed for a new one – which the 32-year-old does not want to reveal yet. But during the national team gathering in Båstad before this summer's European Championships, she told how the last few years did not turn out as she had hoped.
– I think it has unfortunately created a culture in the club that I would call unhealthy for players to be in. Where I have, among other things, been forced to play injured and not received the help I need. Where the management team does not listen to the medical team, and in the end was to leave a decision I had to make if I want a longer career.
Kosovar Asllani has the latest the year has had recurring injury problems which she believes comes from the club's sporting management not listening to the medical expertise.
– I have had a career where I have not been so injured. It is no coincidence that I have been injured this year. Of course it has been frustrating.
– This has been going on during all these three years I have been there. With the results in hand, maybe I should have left already last summer, but I thought I wanted to give it one last chance anyway, because you want to make a change. It is a big club and you want to help it to success. It's not just about me, they are many players in the club who have had to go through a lot that I do not think is okay.
– We see players as products and not as people and players who should have long careers. You want results now, now, now, but then it affects the players' health. It does not matter if someone is injured because then you just have to replace it.
Do you regret going there?
– I do not regret that I went there, because I do not regret my decisions. I felt then that it was the right step. But as a player who has played at the top level, at the professional level for x number of years, I feel that you should listen and do things better. I say this because I want it to be a professional environment, and they know it. I hope it will be.
The injuries meant, among other things, that Kosovar Asllani could not play the Champions League quarter-final against Barcelona at Camp Nou, which attracted almost 92,000 people. Now she is injury-free and feels good before the European Championships, which begin in July.
She says she tried raise the issue at Real Madrid while she was still under contract.
– I have a hard time understanding the reason why this is so, because you have to take care of your players if you want them to have long careers. If you want to get the most out of your players, you have to listen to your players. But we are seen more as products. It certainly happens in men's football as well, but I think it is a sick environment and an unhealthy environment I do not think should exist.
She believes that Real Madrid as a club "unfortunately is in the wrong hands" and that a lot needs to be done for that to change.
– First and foremost that you have the right people and the right employees in the right positions in the club. Leaders who care about their players and their health and work as a team at all levels. The medical team had been very overwhelmed over there, unfortunately.
In contrast, she praises the environment in the Swedish national team, as to help the players allows a flexible training schedule for the European Championships.
– You come here to the national team and it is just the opposite. They ask if you are feeling well or if you should take it easy. This is professionalism. There is such a big difference.
When Asllani chose a new club address, one of the first questions she asked was how the clubs viewed playing with injuries. And she is happy with what her future employer announced.
– They said that the medical team decides. So one can only hope that gave an honest answer.
Read more:
Clubless Lindahl before the European Championships: "Do not be in a hurry to decide my future"
Caroline Seger: I live with pressure all the time
This is how the European Football Championship 2022 will be – everything you need to know