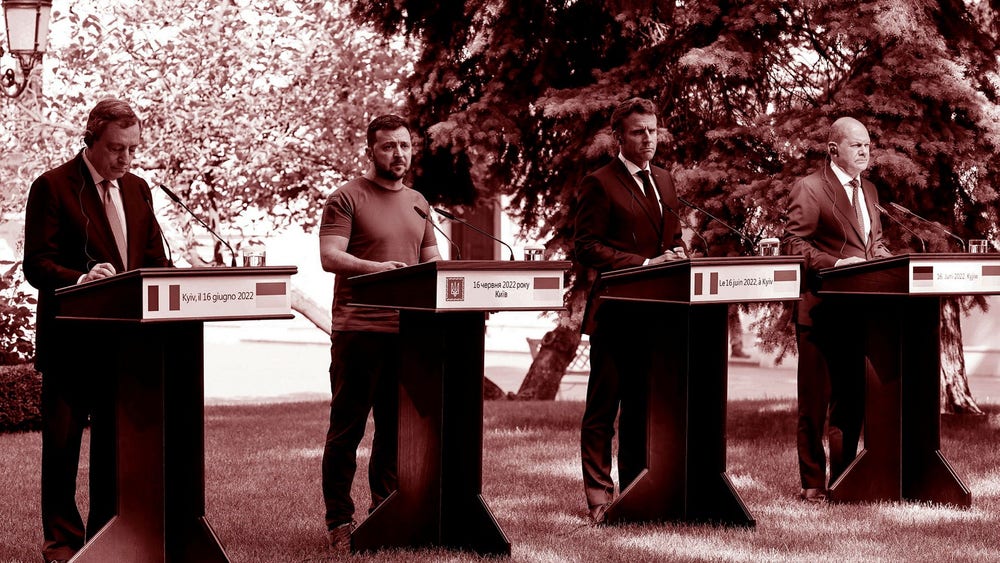 The conflict between Russia and the EU over the war in Ukraine is intensifying. The new focal point is Lithuania. The Baltic state stops train transport of goods affected by EU sanctions from Russia to the Kaliningrad enclave between Lithuania and Poland, which is the main base for the Russian Baltic Fleet.
The Kremlin is threatening serious countermeasures, which worries those who fear a Russian occupation of the 65-kilometer-long Suwalki corridor between Kaliningrad and Belarus, the only strip of land connecting Europe with the Baltics. The EU obviously gives Lithuania full support.
Still it is mostly about rhetorical gruff. Russia reaches Kaliningrad unhindered by sea and an occupation of the Suwalki Corridor is probably not in the cards. That would mean a declaration of war against NATO.
A more likely escalation is that the Kremlin will sooner or later completely cut off gas supplies to Europe, probably this autumn. Putin has sharply reduced flows over the past week, which is why prices have skyrocketed in strategically important consumer countries such as Germany and Italy.
More than 6 out of 10 Europeans believe that it is important to defend European values ​​such as democracy and personal freedom, even if it means higher prices and a lower standard of living.
International Energy Council IEA defends that the purpose may be to force Europeans to use up their strategic reserves to make a total halt this winter more palpable. The organization indirectly calls on Germany to postpone the planned shutdown of the country's remaining nuclear power plants in the future and the EU countries in general to prepare gas rations.
Hopefully it is not against this fund one should see the heads of government Macron, Scholz and Draghi's visit to Kyiv last week. But the feeling is hard to shake off, especially after Scholz's foreign policy adviser Jens Plötner on Monday urged EU to focus less on German tanks in Ukraine and more on the Union's long-term relations with the Kremlin.
It is in a way understandable. Europe is facing a tough time. Inflation is the highest in decades. The European Central Bank (ECB) is expected to raise interest rates sharply to subdue it. In countries such as France, Italy and Greece, economic and political discontent have been rampant for a long time. A gas stop will further deepen the problems.
The crux is that Putin can not be spoken to properly – "strength is the only language he understands", as German Chancellor Angela Merkel bitterly found this week during his first public appearance since the outbreak of war.
The seemingly paradoxical but reasonable countermeasure would therefore be to anticipate Putin and stifle the gas first. In this way, Europe can at least take control of its own destiny. In fact, Russian gas flows have been reduced from 40 to 20 percent of total consumption since the outbreak of war. Replacing the latter is the most difficult, mostly because the alternatives are now in practice exhausted. The consequences will be felt. But they would do the same for the Kremlin – gas exports are important to the Treasury.
Politicians, too in Sweden, should be clear that it has a price to stand up for Ukraine and against Putin. Above all, they should not assume that people refuse to pay it.
More than six out of ten Europeans consider it important to defend European values ​​such as democracy and personal freedom, even if it means higher inflation and a lower standard of living; shows a recent measurement based on responses from 26,000 Europeans. And nine out of ten have nothing left for Putin's Russia.
Europe's people know what values ​​are at stake in Ukraine.