HØLLEN (Aftenposten): The mood is still good among the activists who want to separate Søgne from Kristiansand. But Kristiansand Labor Party warns "no kindness" and increased costs for the breakaways.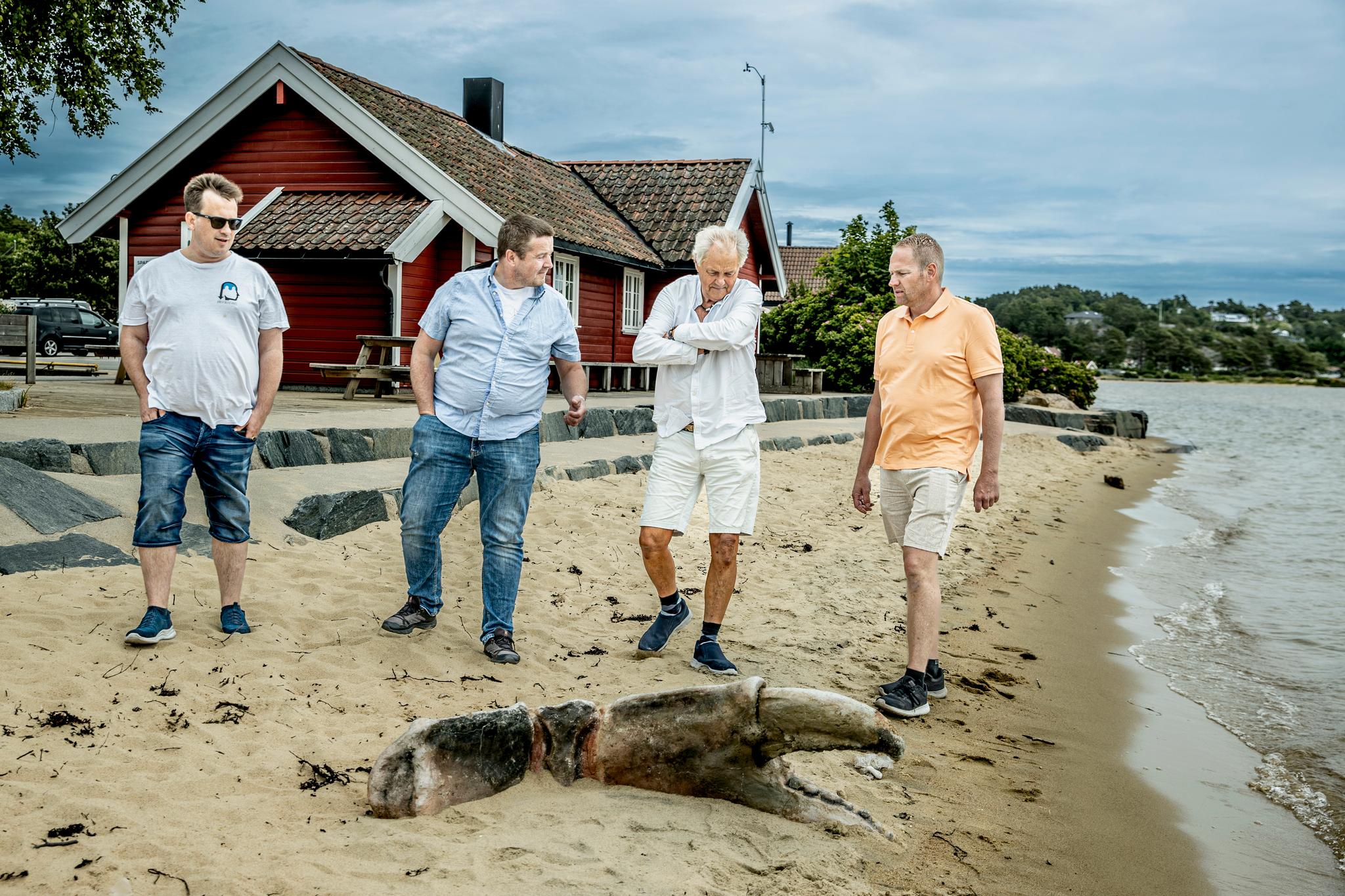 Newsletter Get Kjetil B. Alstadheim's perspective straight in your inbox every week.
It boils in Sørlandet's skerries. Not of mackerel, but of quarrel and conflict. The background is that of the Støre government surprising decision which opens to grant Søgne and Songdalen divorce from new Kristiansand municipality.
Aps people in Kristiansand are furious. This week, both Prime Minister Jonas Gahr Støre (Labor Party) and Minister of Local Government Sigbjørn Gjelsvik (Sp) went to Sørlandet in an attempt to calm the mood – without success.
Now a new treatment plant is also being dragged into the conflict. The question is what people from Søgne will pay for the new treatment plant and a number of other projects if they leave the municipality. From Kristiansand comes a warning: It will be expensive.
Labor mayor: They have to bear the costs themselves
– Kristiansand will not pay for wires that are primarily for other municipalities. This means that they have to pay the cost themselves, yes, says Kristiansand mayor Jan Oddvar Skisland (Labor).
He also refers to a number of other projects that may now be postponed. Especially the investment in five town centers, two of which in Søgne and Songdalen.
– Splitting can be expensive for the inhabitants of Søgne and Songdalen?
– It is very likely. Then they have to bear the costs themselves.
Sigurd Berg Aasen is the leader of the action group "We who want Søgne municipality back". He does not allow himself to be convinced.
– It costs to run a municipality, and it will not be free if we go back to Søgne. But we know how good Søgne was to drive before the merger. So it should be entirely possible to get good services and a good level of fees, he says.
– No price too high for you to want old Søgne back?
– It's an impossible question. We have already received higher costs, says Aasen.
He believes the money could have been used to pay for the treatment plant.
Inflamed theme
Søgne and Songdalen originally planned a new, common sewer and treatment plant in Høllen. The price is NOK 350-400 million. Following the merger of Søgne, Songdalen and Kristiansand, the municipality has studied a new alternative:
Sea pipeline from Søgne to Kristiansand's treatment plant on Odderøya. The price tag is estimated at NOK 200-250 million.
The decision was to be made this autumn. But then came the government's surprising decision to open up for the dissolution of the large municipality. Suddenly, the future cleaning of the Søgne sewer became an inflamed political issue.
And a clear signal of what technical and financial challenges the three old municipalities face if they separate teams.
Leader of Kristiansand Labor Party, Helge Stapnes, says that "it will not be easy at all to establish a new municipality with such a bill on top".
– There are a lot of costs in addition. Although the Minister of Local Government suggests that they will take much of the bill, we know no details about it now. This is just one case. There are a lot of things that need to be in place, says Stapnes.
– Unthinkable thought
– Who will take the bill for the treatment plant if there is a solution?
– Yes, it's not good to say, he laughs.
– Are the inhabitants of old Kristiansand interested in splicing the bill?
– If I had lived in old Kristiansand, at least I would not have been interested.
– Do the Labor members in Kristiansand think that it is OK for the neighbors to leave the municipality and keep the advantage with the large municipality?
– That thought I think is completely unthinkable. I do not hear any kindness from my party members in old Kristiansand who say that "yyyy, now we will help you financially to get the old municipality back in place".
– We are not there, no, says Stapnes.
He has no doubt that the inhabitants of old Søgne and Songdalen must expect higher expenses for municipal welfare services.
– As I see it at the moment, there is no doubt about it, no, Stapnes says.
Søgne has around 12,000, Songdalen 6,000 and old Kristiansand municipality 100,000 inhabitants. If the new Kristiansand is split, the inhabitants of the new Søgne and the new Songdalen will probably have to take the whole bill for the treatment plant alone.
The cheapest alternative – a pipeline for 250 million kroner – then entails an extra cost of 12,000 kroner per. head. A treatment plant in Høllen entails around 20,000 kroner extra.
– Crisis maximization
The activists snort at the calculations. They call it "crisis maximization to make people doubt that we can manage alone."
– Kristiansand also has plans for upgrading old water and sewage pipes. In Kvadraturen alone, it is estimated at 750 million. These are costs we also bear, says Berg Aasen.
– None of the promises have been fulfilled. The two municipalities have been reduced to the Kristiansand level. We pay more for something that is worse, says Morten Mosberg, the campaign's number crusher.
His calculations show that the property tax has doubled, and that municipal taxes have increased by 30 percent after the merger. He points out that Søgne and Songdalen together have almost 20,000 inhabitants.
– It is not a tiny municipality in northern Norway. That we should not be able to take care of our own shit is a lousy argument, says Mosberg.
He believes Kristiansand has wasted large sums on new magnificent buildings for art, culture and theater.
– Kristiansand has spent the money on circuses and amusement parks, not on statutory tasks. They make rice for their own «raw».
– We sense that there are financial reasons why Kristiansand is terrified of losing Søgne, says Mosberg.
The bill for sewage treatment is heavy in the battle for Kristiansand's fate.
1 of 4Photo: Stein J Bjørge / Aftenposten
– Many angry and aggressive
Between seagulls 'cries and the snails' friendly dunk-dunk, there are hailstones and accusations of overtaking, cheating, lies and secrecy.
Neighbors, friends and the community are divided. If one is to believe the membership numbers from the popular actions for and against division, 10 out of 12 inhabitants in Søgne are involved. Vidar Ertzeid lives right by the pier and says that the Søgne supporters will accept the result of the referendum. He is more in doubt about the opponents:
– I think it will be easier for Stor-Kristiansand to continue as a municipality than for Søgne to move on alone. There are so many insane, aggressive and despised people out there who do not want it.
– Some belong to what I call a quasi-intellectual environment. They shout loudly and become almost militant, Ertzeid sighs.
The conflict in the skerries has spread far beyond the municipal boundaries. State stands against municipality. Aps metropolitan rapporteurs is furious at the party leadership. It looks like it will be anything but a peaceful municipal election campaign in Sørlandet next year