Three years ago, Daniel Ståhl broke his own Swedish record and at the same time accounted for the fourth best result in discus history.
The date was June 29, 2019, the place Bottnaryd, the throw 71.86 meters long – and there is much to suggest a similar achievement when the 29-year-old returns on Saturday to the peculiar environment outside Jönköping that seems to be optimal for discus throwing.
– It is a small and very special place. A throwing carnival, says coach Vésteinn Hafsteinsson about the Bottnaryd throw and explains what it is that makes the competition stand out in the summer schedule.
– When you get there you get casseroles and potato salad. You sit out with everyone, eat and have coffee. It's like midsummer, like being out on a picnic. There is no performance stress or anything like that, you just throw your discus and it usually gets long. It's much easier to throw there than at a World Cup or Olympics with all the stuff around. People are relaxed and you just thunder on.
So there are no favorable throwing conditions there other than that it is a harmonious environment?
– No, it's nothing more than that. It is usually not about the conditions but more about the environment.
Even last year, it was at least a long way – 71.40 meters – in Bottnaryd for Ståhl who has really found the form for the World Athletics Championships which starts on 15 July. On Tuesday, he hit with his second longest throw in his career when he won in Uppsala's team-SM at world-best 71.47.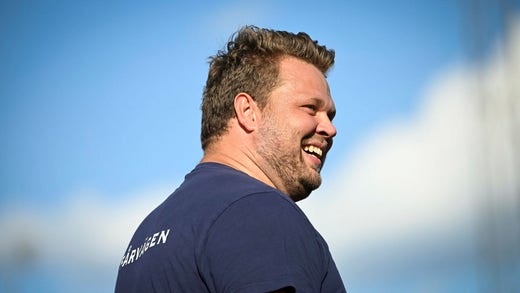 After a swaying period earlier in the season, it now looks significantly better in every way, states Vésteinn Hafsteinsson.
We find the plumps in the Diamond League competitions in Birmingham (65.97) and Rome (65.87) which the Icelander thinks were "surprisingly bad" given the high level of training Ståhl had shown before.
– It is the only thing that has been negative. Otherwise, he has performed well in competition. I am extremely happy with three of the last four competitions. Sollentuna (68.97) was fantastic in difficult conditions, Turku (70.62) was even better and in Uppsala it was absolutely fantastic. Technically, it was one of the best competitions he has ever done. I am very happy with the whole, says Vésteinn Hafsteinsson.
– We have continued to work, he has now shown that it works and I am pleased that he is on the right track.
After Bottnarydskastet, two competitions remain for Daniel Ståhl before the WC: Bauhausgalan at Stockholm's stadium on June 30 and Karlstads GP on July 3.
For the discus throwers, the world championships in Eugene, USA, begin on July 17 with qualifiers. The final will be decided on July 19.
Read more:
Duplantis won easily: The point most important
World year best by Daniel Ståhl
Hugging sex in the extreme heat of Paris: "Okay time"
World year best of Duplantis – despite rain and Norwegian organizer miss