SD is the only party in the Riksdag that has not signed on to Sweden's climate goals. Spokesman Martin Kinnunen explains in DN this with Sweden not having to push to reduce its emissions, because we are a small player globally – it is above all in China that the emission reductions should take place.
Climate action should not affect economic growth in Europe, he argues. Sweden can contribute with research and technological development that helps other countries to free themselves from fossil dependence, says Martin Kinnunen.
– There we have great opportunities, we are good at innovation. We could be a great power in terms of nuclear power, for example, if there was only political will.
Kinnunen gets a setback from both Per Bolund, spokesman for the Green Party, and from the Center Party's climate policy spokesperson, Rickard Nordin.
According to both, SD has misunderstood how innovation works – and that it is through a combination of increased environmental requirements and subsidies that the new technology is developed.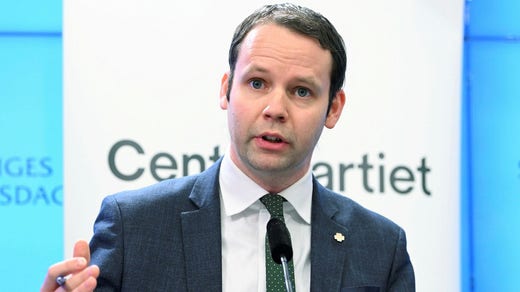 – SD has misunderstood this, it is very clear when you read the article. Companies do not want looser climate goals, they are pushing us. They want the climate to weigh heavier in Swedish legislation, says Rickard Nordin.
According to Nordin, SD wants to "abandon the policy that leads to research and innovation", among other things by withdrawing all support for biofuels.
– He talks about research and development, but in practice they want to abandon those goals.
Per Bolund believes that SD's basic problem is that "one is not able to see climate investments as anything other than a burden".
– What becomes clearer and clearer is that it is not a burden. This leads to better technology, better solutions and ideas, and more competitiveness. Sweden has full order books for fossil-free steel, and the new technology increases the opportunity to sell more internationally.
Bolund gives the electric car prize as example.
– It provides many new cars, charging infrastructure, factories that build cars and batteries. It provides many jobs. Waiting and seeing does not lead to technological development or innovations, he says.
Both Nordin and Bolund turn around opposes the reasoning that Sweden does not need to reduce its emissions at a faster pace.
– We have higher emissions per capita than many other countries. Every kilo of reduced carbon dioxide emissions is counted, says Bolund.
Read more:
Martin Kinnunen (SD): We are the only party that is not behind the climate goal
"The world will find it difficult to succeed if all countries reason like SD"